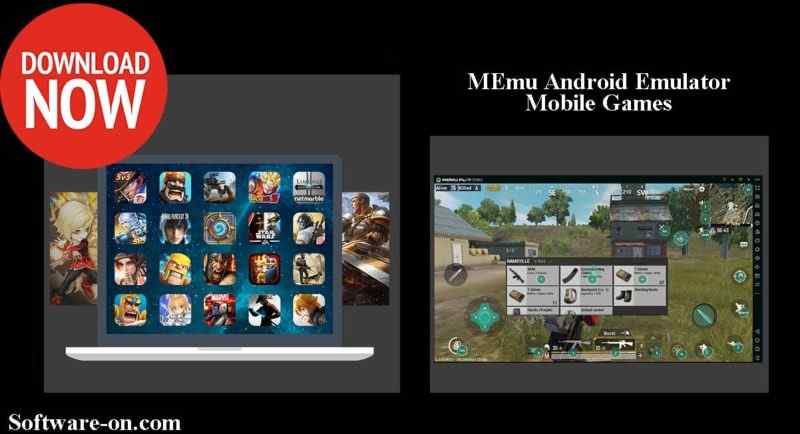 MEmu Android emulator the Mobile game player for PC Windows the one of the best Android OS player simulator to Play and downloads APK Android Mobile Games on PC Windows 10, free download Menu app player the fastest free APK Android Application device on your computer. MEmu App Player is a powerful Android emulator and aims to provide performance and experience to play android games and apps on PC (Memu play Android Games on PC). Also, MEmu is one leading performance and unique multiple-Android-kernels support, MEmu has millions of users in a lot of countries and languages, and it's still growing.
Note

:

software-on.com articles

are based on extensive research and practical testing if possible. For more information, see here: .
What is MEmu? ( Definition / Meaning).
MEmu is an Android simulator specializing in video games. With MEmu, you can enjoy the many titles of exclusive games that you can find for the Android platform on Google Play, and directly on your computer (Memu Play Android Games on PC). You do not need to adjust any complicated settings and configure controls, just install them and start playing.

For More Android Tools and utilities, check here:
Dword Vip PUBG Mobile Hack Aimbots / Wallhacks
MEmu Android Emulator Mobile Games player features:
Full Android experience with an elegant desktop.
Flexible customization (CPU, memory size, resolution, device model, nav bar location, root mode, etc.).
Keyboard/joystick mapping to touch screen for a much better game experience.
Passthrough sensor data (e.g. accelerometer) to Android, so you can play car-racing like games.
Fast APK installation by dragging and dropping.
File sharing between Windows and Android.
One-click android system creation/clone/ deleting, and you can run multiple Android instances.
MEmu Android Emulator Mobile Games player Supports and can use ON:
Windows 10/ Windows 8.1/ Windows 7/ Windows Vista / Windows XP.
How to use MEmu Android Emulator Mobile Games player?
it's an easy

Android simulator, just

install and start playing,

with MEmu can install Android games easily, click the APK button on the right side of the interface, select the APK of the game you want to be installed. It's really easy.
File link info:
File Type: Software application.
Activation Type: Freeware for testing products in full version before buying.
Publish Date: Nov 11, 2018.
Last Update Date: Jun 7, 2019.
links Include:
MEmu Android Emulator Mobile Games player last version.
Note: Activation can be Promo code,  license key, Product key, Reset Trial, Serial number, Registration key, Activator, Patch.

Note: Please report if you have any problem, bad file, expired Links:
here in the Report Page or in the comment below.
DIRECT FILE DOWNLOAD LINKS
MEmu Android Emulator Mobile Games player last verion

FILE4NET

UP4EVER

File-upload
Note: Software-on.com Team share only direct download link of MEmu Android Emulator that are freely available on all over the Internet and for testing purposes only, this website doesn't host any files this website just provides articles With information.
If you have any question just contact us at Contact Page.

Note: Make sure that you have a good anti-virus program in your computer or check one of the listed antivirus software in our site to scan the file before unrar and installation.
Antivirus Software Category

Note: You can Free Download files from the download links above. We share files under the terms of GPL (GNU General Public License) that provides Full Version software/applications/tools for testing purpose only. We promote software to the users globally so that you can check it before buying any software from the original developer/designer. If the item fulfill your needs and you're satisfied with it then buy it from the developer for commercial use. Software-on.com doesn't host any of the files (software/applications/tools…etc), this site only contains download links from 3rd party sites by individual users which are freely available on all over the Internet.