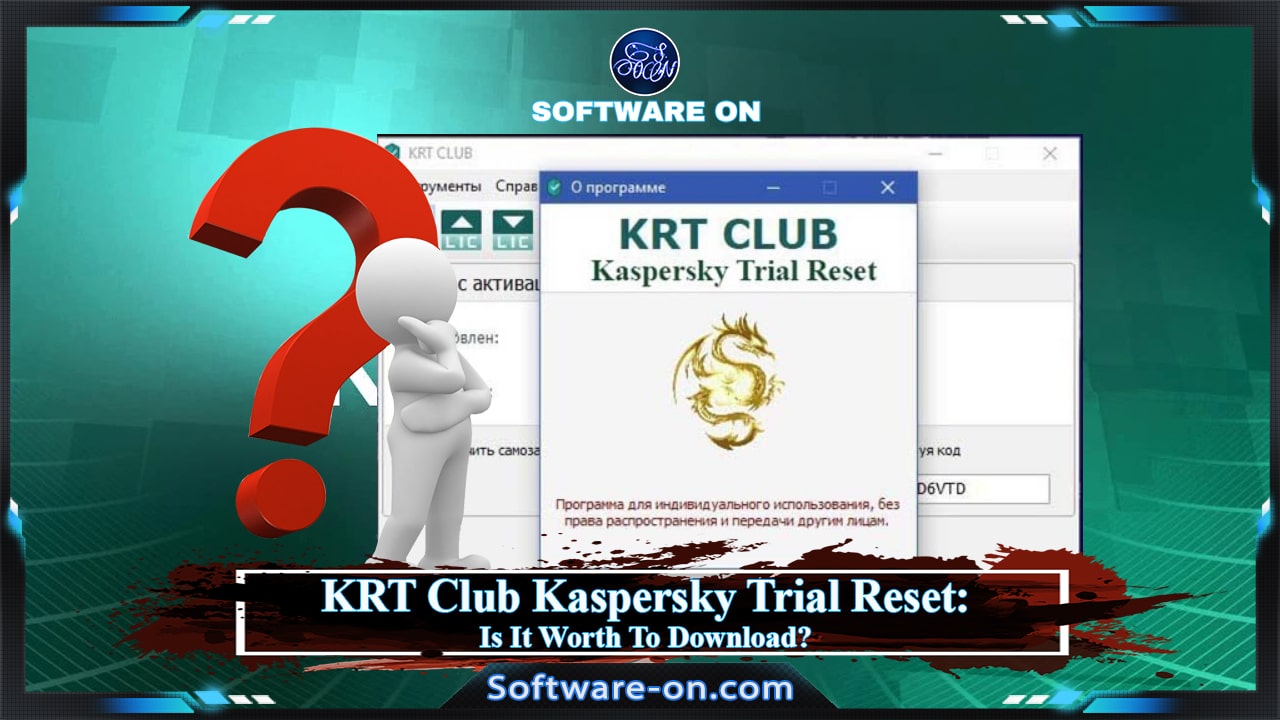 KRT CLUB, Kaspersky trial reset or manual activation are free methods that may still remain popular in 2022 & 2023. However, is it worth the effort? Is it safe to download and use these methods and tools? This article will provide you with all the information you need, to see for yourself if the KRT CLUB tool and the Kaspersky reset trial manually are worth it or not.
In short: the KRT CLUB tool and Kaspersky trial reset manually both methods does not worth the effort. As there are many reasons behind this. Alternatively, Kaspersky Security Cloud Free is enough to protect your computer. On the other hand, Kaspersky Reset Trial KRT CLUB considers a trial resetting tool. Since it gives a trial to renew and activate any version of Kaspersky security products. Specifically, can reset the trial for Anti-virus, Internet Security, and Total Security.
Note

:

software-on.com articles

are based on extensive research and practical testing if possible. For more information, see here: .
What Is KRT CLUB?
KRT CLUB is a small freeware reset trial tool that can reset and renew the license trial of the Kaspersky products. Moreover, it's an easy and fast tool to use to reset the trial period of Kaspersky such as Internet Security, Total Security, and antivirus products in 2021, 2022, and 2023. Furthermore, It can be also called a Kaspersky trial resetting program.
KRT CLUB is one of the most famous tools among activators in 2021 & 2023. Since it relates to the most popular security software, called Kaspersky, which is considered the best security in one software.
This tool can be resetting the Kaspersky product trial period, which comes in very many versions. It is still regularly updated. Examples of these versions are below:
Kaspersky Trial Reset KRT CLUB 3.1.0.29 ATB Final.
Kaspersky Reset Trial KRT CLUB 2.1.2.69 BETA 3 and BETA 4.
KRT CLUB 2.0.0.35.
KRT CLUB 5.1.0.41.
Consequently, when installing Kaspersky products such as Antivirus Total Security, Internet Security, CRYSTAL, PURE, Endpoint Security, Small Office Security, … etc. The user will get a trial period of 30 days.
However, after the 30 days of the trial ends the product will ask to purchase a license key or code to renew Kaspersky and to continue using all the features of the security software.
Not only Kaspersky, but a large number of programming and software companies also give a trial period option. This comes to allows potential users and customers the time to evaluate whether they like the product enough to buy it or not.
Windows 10 PC, Mac & Mobile users will be provided with only a 30-day trial version of Kaspersky products. This includes Antivirus, Internet Security, and Total Security.
Why Some Are Using Kaspersky Reset Trial?
Some users don't satisfy with the only 30-day free trial of Kaspersky and need more time to make a decision and test more.
With Kaspersky Reset Trial KRT CLUB potential users and customers will be able to extend the trial period and renew it for another 30 days and more. So they are able to decide whether Kaspersky's product is good or not.
However, this is not the only way to make a decision and test more. Kaspersky released a free version of their security product called Kaspersky Security Cloud Free, which has all the features anyone needs to protect their PC.
KRT CLUB Trial Reset may support all the latest version security products such as Kaspersky Total Security, Internet Security, CRYSTAL, PURE, Endpoint Security, and Small Office Security.
This tool can support the oldest version to the latest version today. It also can give a full version product for another 30 days. Plus gives you a way to test the product as you like.
The last version available on the internet right now is Kaspersky Reset Trial KRT CLUB 3.1.0.29 ATB Final. Moreover, we noticed that there are or may be new releases of KRT CLUB in the future. These tools came under the name of Kaspersky Trial Reset KRT CLUB V 4.1.0.35, V 4.0.0.27, and V 3.1.0.32.
These versions clime to add new functions and improved algorithms and also will have a new interface, settings, and general improvement.
Is KRT CLUB Kaspersky Reset Trial Worth it?
NO, even if the KRT CLUB tool and manual method reset seem to be worth trying to reset the Kaspersky license key trial. You must know that Kaspersky Security Cloud Free is enough to protect your computer.
Be aware that this makes no sense. Use unknown source tools that may damage your computer to activate the antivirus that is supposed to protect your computer!!!!
Is KRT CLUB Safe?
Based on some experiments, tests, and research that we have done. It turns out that KRT CLUB is a dangerous tool that is recognized as a threat by many antiviruses and contains many types of malware and trojans.
See below is one of the tests that we conducted, which from our point of view alone is enough to make you stay away from using this dangerous tool.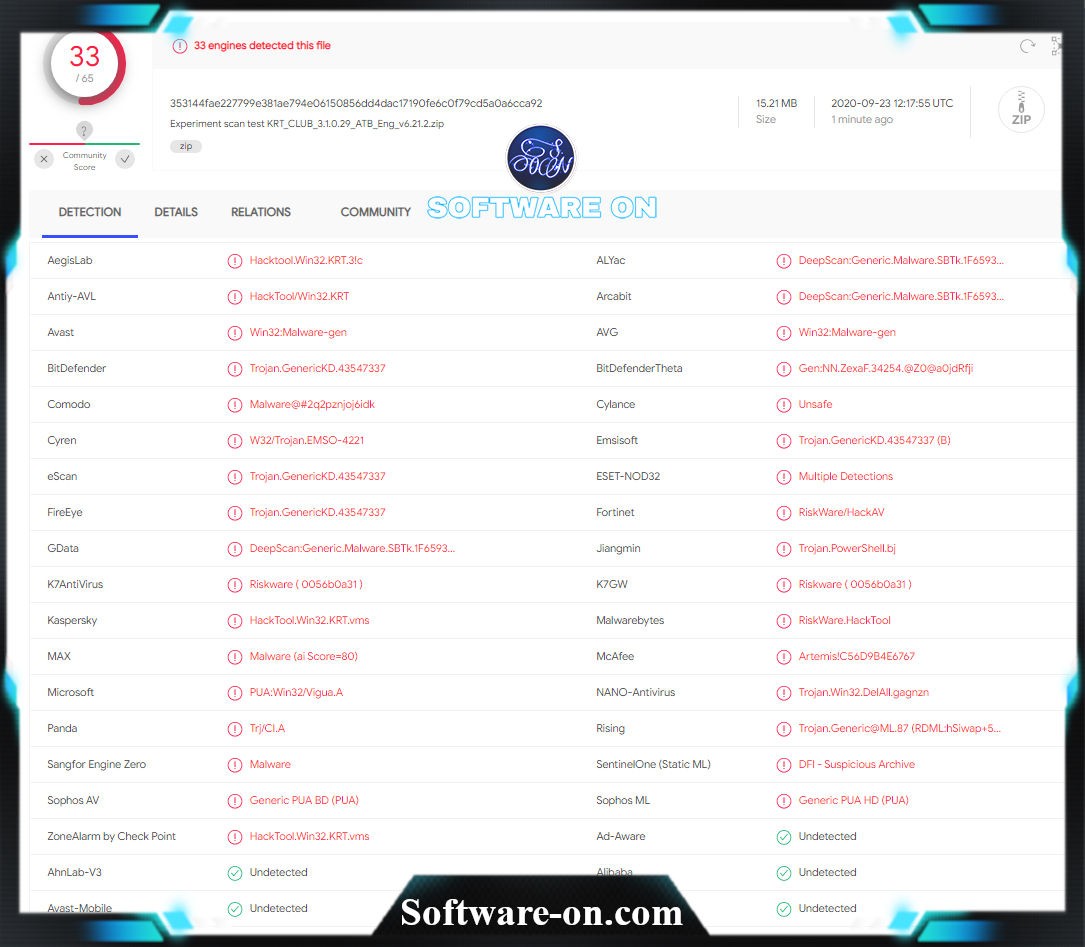 In the previous image, the latest version was tested according to what was claimed by the source, which is KRT CLUB 3.1.0.29 ATB Eng v6.21.2. These results are also similar to the result of most previous versions, unfortunately.
This proves that the KRT CLUB tool is dangerous as it cannot be used without stopping the antivirus program from working. This may lead to mysterious behaviors in users' operating systems that may occur without their knowledge.
As an example, it may lead to infecting your antivirus or your pc before reactivating the protection. So do not search for it and never use activation tools or reset trial tools.
Be aware we are not recommending using or downloading the Kaspersky trial reset activation tool or any other unofficial tools.
We provide you with all the knowledge, information, and resources and you have to decide and take responsibility by yourself.
Kaspersky Trial Reset Manually:
Kaspersky's manual trial reset method is one of the other methods that do not require the use of any tools, but this does not mean that it is not dangerous. Be aware playing with Windows Registry might ruin your Windows operating system.
For example and although we are professionals and we have some experience in such things, many times after changing some databases or removing some others in order to do some experiments.
The result was that our operating system was not responding and a blue screen appeared with an error code. Not only, but also sometimes, all attempts to fix this did not work, except by installing a clean operating system with a complete format.
Despite all this, we offer you the method, but be aware this method may be worthless and does not worth the effort or the risk.
Uninstall any Kaspersky products from Control Panel (Normal uninstall or using uninstaller software), Then restart your PC windows.
Open the Run command box (Windows + R buttons from Keyboard), type Regedit then presses Enter.
From Registry, Go to >>> HKEY_LOCAL_MACHINE >>> SOFTWARE >>> Microsoft >>> SystemCertificates >>> SPC.
Delete the "Certificates" Folder.
Go to Kaspersky Official Website, download any Free Trial Version, and install it.
Done, Now you reset Kaspersky manually with a new 30-day free trial license without using KRT CLUB 2019/2020.
Do not use this method if you do not know what to do or are afraid to damage your Registry data. Therefore, we always recommend backing up the Registry before changing anything, especially if this is your first time using Kaspersky's manual trial reset.
How To Use Activation License Code And Activate Kaspersky?
Basically, you may not need to use this. however, if you need to activate the trial, have a working key, have an official License key, or code for Kaspersky, you might need to do the following steps.
In the application, click on the Enter activation code.
Enter the License Code you have or click the Activate trial version.
Click Done, the license will be activated for one trial month or according to the License key you obtained.
KRT Club Kaspersky All Products Trial Reset History:
Here is some information that was previously collected over the past few years:
The last one: There are some rumors of new releases. However, we don't have enough data or information about it. However, we only found that there are newer versions of KRT CLUB.
Furthermore, it might be released under the name of Kaspersky Reset Trial KRT CLUB V 4.1.0.35, V 4.0.0.27, and V 3.1.0.32.
Kaspersky Trial Reset 2019 / 2020 / 2021 KRT CLUB 3.1.0.29 ATB Final, which in the meantime is the final last version. It fixes the time and date change problem from KRT CLUB 2.1.2.69 BETA MOD.
Also, it requires disabling Antivirus auto-defense protection and closing the Anti-Virus, which indicates that it is not safe at all. So for your safety, we recommend not using this tool.
Kaspersky Trial Reset 2019 / 2020 KRT CLUB 2.1.2.69 MOD BETA Beta 4 MultiLang. As it's also a Kaspersky all-product trial reset which might still work in 2020 & 2021.
However, it's the same as other tools. Also, at its time was the only MOD that can successfully rest Kaspersky Antivirus 2019 with version 19.0.0.0.1988(d) including total security 19.
KRT CLUB 2.1.2.69 was used to reset the Kaspersky trial in 2019. However, it does not work anymore. As will as KRT CLUB V2.0.0.35, Kaspersky Reset Trial V2.0.0.35, and V5.1.0.41 (krt_5.1.0.41 mod).
How To Use Kaspersky Reset Trial Tool (KRT CLUB) and Activate your Antivirus:
These are some tutorials used with the KRT CLUB tool to reset the trial. Plus, we don't recommend trying to use any of these tutorials. We only share it for the sake of knowledge and you take responsibility for using it on your own.
(A) Tutorial
Disable / Uncheck Self-Defense
close your Kasper anti-virus from Taskbar
Start the Kasper Anti-Virus Reset Trial and click the "Reset activation" button.
Run Kasper Anti-Virus software, pressing "Activate trial version" to activate it
Note: Sometimes depending on the version of the anti-virus, KRT needs to reboot the computer or launch an antivirus program" or trial Keys.
Note: For this to work, Don't forget to change the time back to normal after Reset Trial tools restarting your windows.
(B) Tutorial
Install Your product Version (Internet / Total Security)
After Installation Disable Real Protection And Self Defence Of Antivirus and Close it.
Open "KRT_CLUB_2.1.2.69.exe" and Activate The Activation License Key File From Working Kaspersky 30 days trial Keys from the download links.
Note: After antivirus expiration use "KRT_CLUB_2.1.2.69.exe" to Reset Activation and Activate The License Key File Again to get Unlimited Days.
If Somehow these License Files Get Blocked No Problem Activate Your Own Trial Version And Save the License File Using "KRT_CLUB_2.1.2.69.exe", then go to Your License File and Repeat Again.
Why Are You Still Looking for Kaspersky Trial Reset KRT CLUB 2023?
First of all, tell us why you are looking for a trial reset by writing in the comments below.
But if you are looking for it because of its features. So be aware that all of Kaspersky's features can be substituted with free and open-source software. Consequently, besides using Kaspersky Security Cloud Free, you can replace the professionally locked features with the following:
Password Manager can be replaced with LastPass or Bitwarden.
VPN can be replaced with OpenVPN or softeatherVPN (There are so many other free VPNs).
PC Cleaner can be replaced with Free Advanced System Care.
Safe money can be replaced with any advanced and open-source safe browsers that put your privacy and security on their top priorities.
Is Kaspersky Security Cloud Free Good?
Unlike the KRT CLUB activator and Kaspersky trial reset manually method, the Kaspersky Security Cloud Free is safe and really worth downloading. It gives you all the basics of virus protection for free. You will feel that you are using the paid version because there are many features available in the free version. Plus, the paid features can be replaced by additional software.
Conclusion: Download Kaspersky Security Cloud Free Instead
Eventually, Kaspersky Security Cloud Free is the solution for those who can't offer the price and want to protect their computer using Kaspersky. So keep your peace of mind form of all this and stay away from dangerous programs like KRT CLUB that may ruin your life.
Get your software safely from the link below: