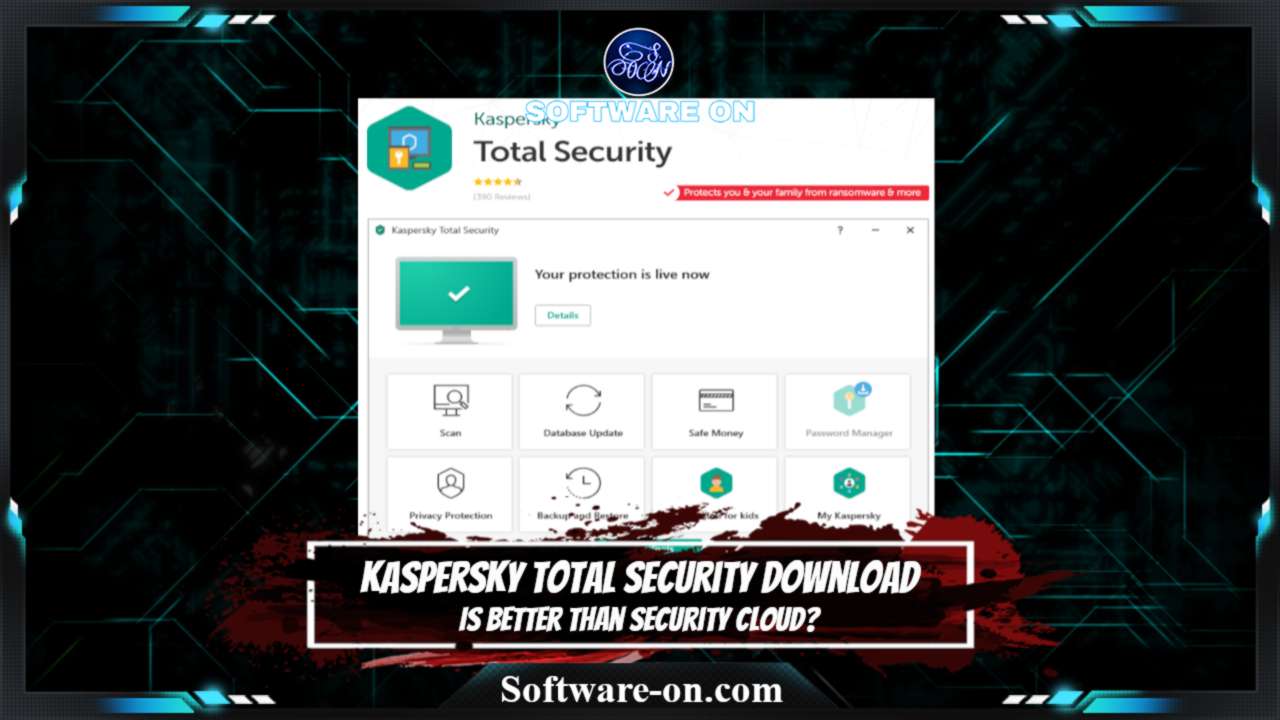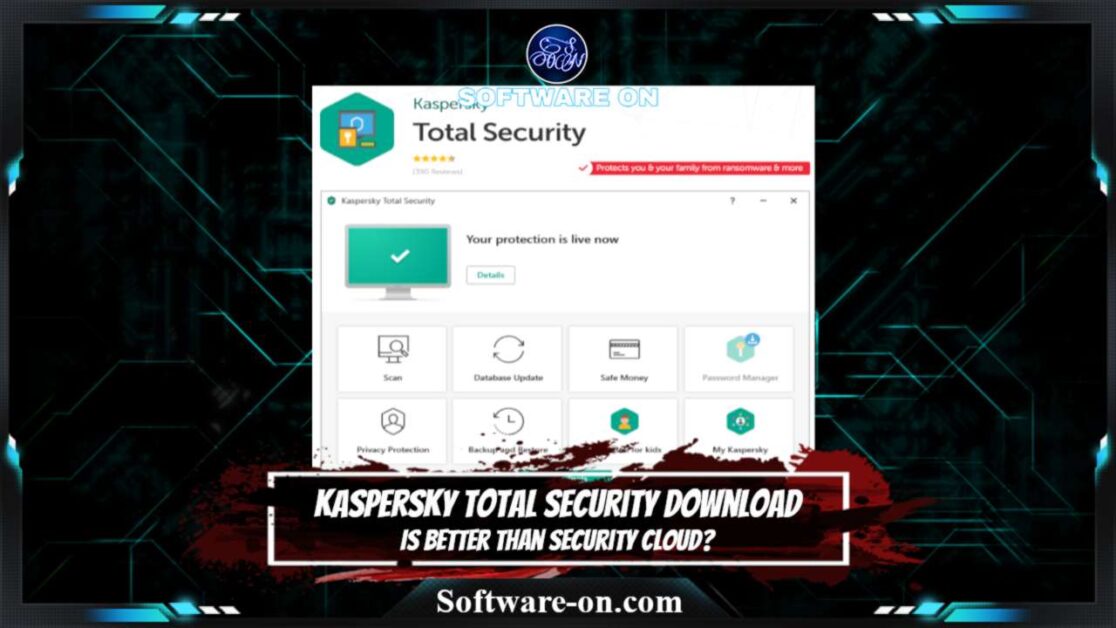 Kaspersky Total Security is one of the top ultimate protection antivirus software available to download for iPhone & iPad, Mac, and PC Windows 10 with a free 30-day trial. However, Is Kaspersky Total Security a good installation compared to cloud security paid and free? In this short post, you will know everything including the download links for Kaspersky Security Cloud free and Total Security.
In short: Kaspersky Total Security is designed to secure everything since it considers as an ultimate protection for all activities and so good insulation on your devices. Additionally, It comes loaded with all features of Kaspersky Internet Security and Antivirus. Besides, it includes a password management tool, an encryption tool, and a backup tool. Furthermore, users who cannot purchase Total Security Antivirus can alternatively download and use Kaspersky Security Cloud free.
Note

:

software-on.com articles

are based on extensive research and practical testing if possible. For more information, see here: .
What Is Kaspersky Total Security?
Kaspersky Total Security is an absolute security solution designed to protect users' PC computers, Mac, Android smartphones, and tablet devices against all viruses and threats. Plus, it includes all features of the standard antivirus application plus a file backups tool and a password manager. In addition, it secures the internet connection against online threats, also delivers protection for privacy, money, Identity, photos, and family as well as real-time defenses against all malware threats.
As always, Kaspersky Total Security software is easy to understand like any other product such as Kaspersky Internet Security and Antivirus. Plus, it has an ultimate and powerful security option to protects PC windows from any types of threats. Moreover, It has been optimized for maximum protection and efficiency for all types of devices. Plus, it can keep performing as they were designed without slowing down the 'digital life' of the users or customers.
It contains a powerful full security suite that has a password manager feature, which able to synchronize and save passwords across devices. Moreover, users can create powerful credentials including automatically fill web forms. In addition, the encryption is created using data cabinets that are basically disk history that uses certain encryptions.
Kaspersky Total Security has another feature which is a backup utility, through which one-time backups can be made or scheduled for either local storage, or to a network drive or FTP server. With it, customers and users can safeguard their photos, videos, music, and financial documents. To clarify, any backups that were made can have password-protected and it can configure the time length.
Is Kaspersky Total Security A Good Installation?
As we said before, all antivirus products from Kaspersky are so good including a total security program. To summarise, It has an optimal detection rate of 100% including excellent real-time protection. Furthermore, users can choose between several types of scans, which don't slow down devices during the full system scan.
Based on the impressive protection offered by the standard Antivirus, Total Security includes much more protection features. To clarify, it includes a firewall, a system scanner, and some of the best parental controls designed to stop cyberbullying.
For ordinary users and those who are not able to buy online, the Kaspersky Security Cloud Free antivirus edition is good enough. Typically, everyone who uses the internet should have good security software on their devices and not depend only on the default security software such as Windows Defender from Microsoft.
But sometimes if you own a business, work, or your device has critical data that must be protected and not just for normal internet browsing, then you must upgrade from the free to the paid editions.
Check Features Below:
Secures and Protect System, files, personal data from Internet risks.
Viruses Scan for devices or specific files, folders.
Secures, Purify and delete infected objects.
security and protection without slowing you down devices.
Safeguards privacy and identity.
Secure online banking & shopping.
Protect and Secure photos, music, and files.
Help to keep kids safe from online dangers.
Application Manager for all passwords, apps & websites.
Software Updater: Find and install updates for applications.
Backup utility for devices or OS Windows.
Difference Between Kaspersky Security Cloud & Total Security:
Most features of Kaspersky Total Security and Kaspersky Security Cloud are the same. However, Security Cloud (paid not free) has adaptive security technology, which adjusts to users' activity and providing recommendations on better protection for single users and the whole family. In turn, this also provides a higher level of safety for your device.
In another word, Kaspersky Security Cloud more than pure antivirus and malware protection, which means it's better than Total Security. Moreover, password manager, e-mail security, network devices … etc, are the same in both.
Alternatively, Download Security Cloud Free AntiVirus Instead:
Kaspersky Security Cloud Free version also has amazing results, not to be underestimated as it has proven its superiority in protection. in fact, protection of this strength is a very good choice, it's even amazing because it is free. Besides, for more information check the link below.
Finally, Download & Try Kaspersky Total Security For Free:
Be aware that you should get security software for your devices because cyber-attacks are increasing over time. Plus, Windows Defender is really bad and can't keep up, since it has been penetrated by several attacks. Furthermore, Check the link below to download your antivirus software safely.