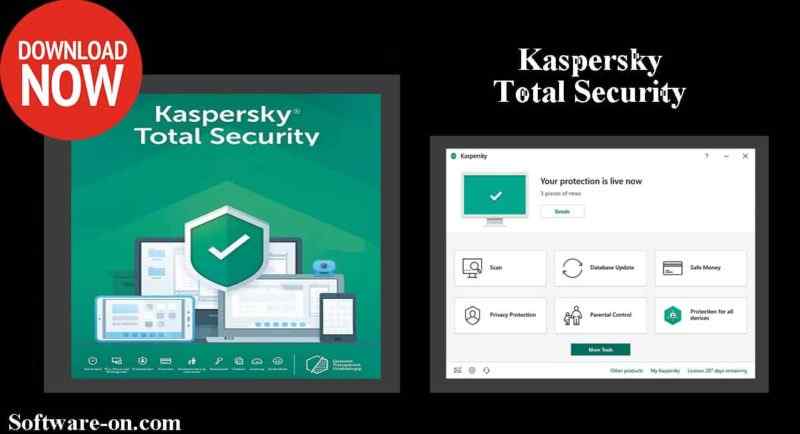 Kaspersky Total Security the top ultimate Security AntiVirus software, Download it for free from the link we share below the absolute Security software for protecting  PC, Mac, Android smartphone or tablet and secure internet connection against online threats, also delivers protection of protecting privacy, money, Identity, photos, and family. it has real-time defenses against all malware threats. 
Kaspersky Total Security is designed to Secure everting its an ultimate protection for all activities on PC Windows. It comes loaded with all features of Kaspersky Internet Security and Antivirus. In addition, includes a password management tool, an encryption tool, and a backup tool.
Note

:

software-on.com articles

are based on extensive research and practical testing if possible. For more information, see here: .
What is Kaspersky Total Security?
Kaspersky Total Security is an absolute Security solution designed for protecting computers and mobile devices against all viruses and threats, and including all Kaspersky Internet Security and Antivirus features, as well as the file backups tool and a password manager.
This Security Software is also easy to understand like the Kaspersky Internet Security and Antivirus, it has an ultimate and powerful security option that protects PC windows. This Security program has been optimized to maximum protection and efficiency for all devices and can keep performing as they were designed without slowing down the 'digital life' of the users or customers.
Based on the basic and great protection of the Kaspersky Anti-Virus Security program, this ultimate Security will include a lot more protection such as a firewall, a system scanner, and some of the best parental controls designed to stop cyberbullying.
It contains a powerful full security suite plus a password manager feature. This handy utility is able to synchronize and save passwords across multiple devices, create powerful credentials, and automatically fill web forms. Encryption is created using Data Cabinets that are basically disk history that uses certain encryptions.
This integrated security program from Kaspersky has another feature which is a backup utility, through which one-time backups can be made or scheduled for either local storage, or to a network drive or FTP server. With it, customers and users can safeguard their photos, videos, music, and financial documents. Any backups are made can be password-protected and it can configure the time length.
Kaspersky Total Security Features:
Secures and Protect System, files, personal data from Internet risks.
Viruses Scan for devices or specific files, folders.
Secures, Purify and delete infected objects.
security and protection without slowing you down devices.
Safeguards privacy and identity.
Secure online banking & shopping.
Protect and Secure photos, music, and files.
Help to keep kids safe from online dangers.
Application Manager for all passwords, apps & websites.
Software Updater: Find and install updates for applications.
Backup utility for devices or OS Windows.
DIRECT FILE DOWNLOAD LINKS
This post will be updated soon:

Check our list below for the best alternatives, which is safe and truly free of charge:

1-

2-

3-

4-

5-

6-

7- (coming soon)