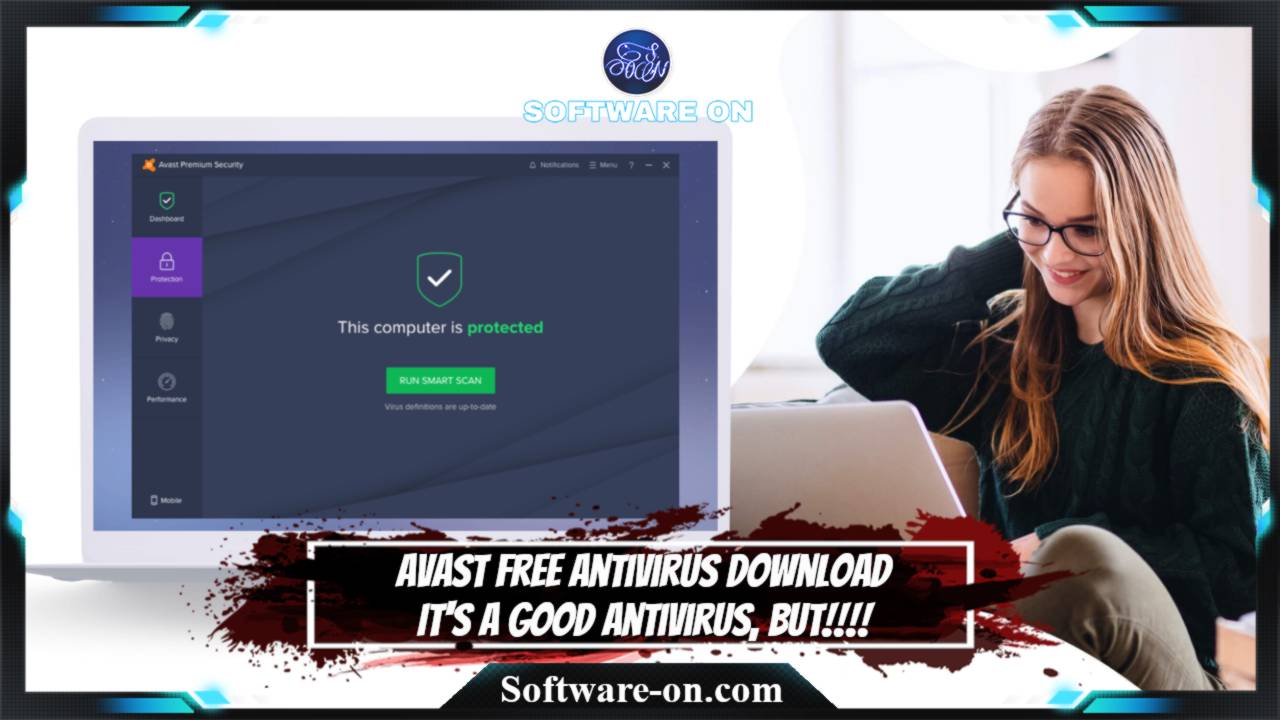 Avast Free Antivirus Download: the most popular and have the most feature as a free antivirus program for OS Windows 10, 8, 8.1, 7, Vista, and XP (32-bit or 64-bit). In this short article, you'll know everything you need to know, including finding out if Avast's free antivirus is really worth downloading, and is it good to use?
In short, Avast Free Antivirus considered one of the best Antivirus programs that provide free protection on windows 10. Not only, but also provides additional protection features, which other competing companies provide the same features in the paid product version. Unfortunately, it turns out that Avast is collecting information about its users. This makes it not trustworthy and unacceptable from antivirus software that supposes to protect, not to spy on its users.
Note

:

software-on.com articles

are based on extensive research and practical testing if possible. For more information, see here: .
What Is Avast?
Avast Antivirus is an internet security software the have free and Premium versions that designed to protect devices such as Microsoft Windows, macOS, Android, and iOS.
It is a cross-platform software that includes many protection features such as Anti-track, anti-exploitation, web threat scanning, and browser protection.
Besides the enhanced protection from Avast, it has got some advanced features like SafeZone, Silent Firewall, Anti-SPAM, and Automatic Software Updater.
Not only, but also Avast (Free & Premium security) offers many more features than its competitor. As it includes a password manager, network security scanner, ransomware shield, spam control, and protection against hijacking, and more.
Avast Free & Premium security offers a fantastic antivirus engine and since it shares its technology with AVG. The third-party test institutes showed that both deliver high scores on protection. In fact, Avast security software has a smart scan feature to search all cracks, which protect against all sorts of spyware.
The Sandbox features will help to detect the suspicious files before they run on the system. Secure DN protection encrypts the computer connector and the DNS server.
Avast for Windows-based computer, which concedes as a complete security package. Furthermore, all Avast Free & Premium security products are fully compatible with Operating System Windows 10, 8, 8.1, 7, Vista, and XP (32-bit or 64-bit).
Is Avast A Good Antivirus?
Avast Free Antivirus offers magnificent protection against all types of malware. In fact, this antivirus highly scores in the test institutes and offers many more features than many competing commercial products.
However, based on research and sources, it was discovered in early 2020 that Avast (who also owns AVG) has been collecting data from his users, spying on their browsing data activities, and selling it. Which in turn has generated millions of dollars in profits for Avast.
Consequently, Google and Mozilla removed Avast web extensions from their stores due to these scandalous events.
But they are back at these stores again, where they say that they have already implemented the new requirements, and will release more updates that are fully compatible.
Unfortunately, Avast is not a good antivirus anymore and we do not recommend using Avast antivirus (Free & Premium security) based on all these facts.
Avast Antivirus Features:
Anti-Virus & Anti-Ransomware
Integrated Password Manager
NEW Secure Browser
Safe Online Shopping & Banking
Running Risky Programs and Websites
Anti-hijack (Phishing) Protection
Multi-Year Licensing
NEW Ransomware Shield
Firewall Against Hackers
Personal Data Protection
Anti-SPAM & Anti-Phishing
NEW Webcam Shield
Automatic Software Updates
Delete Files with No Traces Left
Download Link: Avast Free Antivirus Offical