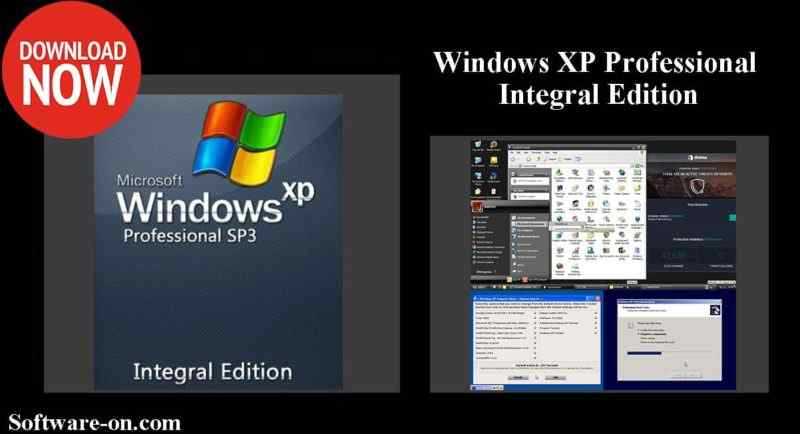 Windows XP Pro SP3 Integral Edition With Updates ISO Activated Includes ALL the latest Windows XP Updates/Hotfixes and will also automatically receive new important and basic Windows XP Professional Updates,
Free download This modified version that does not require any Windows XP Activation or Cracks or CD-Key, this is a Pre-activated Windows XP Integral Edition (Windows XP Professional SP3 ISO Activated).
Note

:

software-on.com articles

are based on extensive research and practical testing if possible. For more information, see here: .
Windows XP Pro Integral Edition is a highly optimized Windows XP edition and developed that includes additional SATA/AHCI and LAN drivers, Many Themes, Runtimes, Patches, Fixes, Tweaks, and some optional Programs which you can choose after installing Windows and Pre-Configured Settings.
Download Windows XP Pro Integral Edition that comes as an ISO file (Windows XP SP3 ISO) to install Windows XP with a USB Flash Drive.
Windows XP Pro Integral Edition including the latest Applications:
7-Zip.
Basilisk/UXP (Mozilla Firefox fork for Windows XP).
PotPlayer.
Unlocker.
SumatraPDF.
ImDisk Toolkit.
HashCheck.
Open Command Prompt Shell Extension.
Microsoft Calculator Plus.
Microsoft BitLocker To Go Reader.
Windows XP Powertoy – ClearType Tuner.
Windows XP Powertoy – Alt-Tab Replacement.
Windows XP User Profile Hive Cleanup Service.
Windows XP GDI+ Detection Tool.
Windows XP QFEcheck.
Windows XP Pro Integral Edition including Runtime Libraries:
Microsoft DirectX 9.0c End-User Runtimes.
Microsoft .NET Framework: 1.1 SP1, 2.0 SP2, 3.0 SP2, 3.5 SP1, 4.0 Full.
Microsoft Visual C++.
Microsoft Visual Basic.
This post will be updated soon:

Check our list below for the best alternatives, which is safe and truly free of charge:

1-

2-

3-

4-

5-

6-

7- (coming soon)