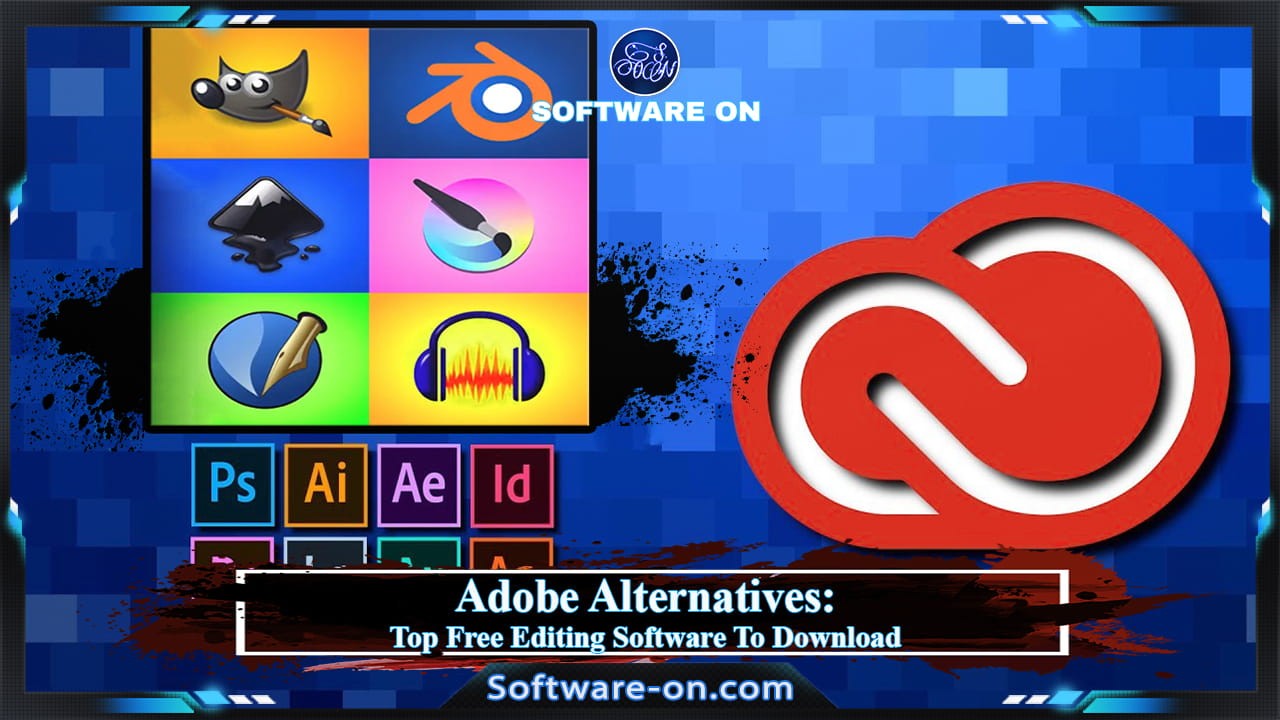 Adobe Alternatives: for the past years, Adobe Creative Cloud packages were the best photo, video editing software, and graphic design apps but not anymore. In this short post, we list all the best free editing software that are alternatives of adobe, which you can download and install for free right now.
In short: free and open-source alternatives of adobe have significantly evolved during the last few years as they are comparable to the features of paid editing software. In fact, Adobe alternatives are the best solution for small businesses, home users, and those who reject Adobe Creative Cloud packages subscription model.
Note

:

software-on.com articles

are based on extensive research and practical testing if possible. For more information, see here: .
Why Using Adobe Alternatives?
Although Adobe Creative Cloud applications considered the best tool for everyone. However, many users find it difficult to pay for the adobe subscription model. In fact, many small businesses and home users cannot accept monthly fees. So they are likely to look for other ways to obtain free editing software.
Free editing software like many other free and open-source software and application that has increased dramatically and in parallel with the features they provide, which in many cases are outperforming major company's software like Adobe.
15 Best Free Editing Software To Download That Can Replace Adobe
This is our list for designers who looking for alternatives for adobe Creative Cloud packages or searching for the best free editing software. This is not the final list as there is a lot of software we did not mention, but more will be added in the future.
| | | | | |
| --- | --- | --- | --- | --- |
| No | Free Software | Alternative to | Check Our Review | Download Link |
| 1 | GIMP | Adobe Photoshop | | |
| 2 | krita | Adobe Photoshop | SOON | |
| 3 | Darktable | Adobe Lightroom | SOON | |
| 4 | ButtleOFX | Adobe Aftereffects | SOON | |
| 5 | Natron | Adobe Aftereffects | SOON | |
| 6 | OpenShot | Adobe Premiere | SOON | |
| 7 | Kdenlive | Adobe Premiere | SOON | |
| 8 | Lightworks | Adobe Premiere | SOON | |
| 9 | Shotcut | Adobe Premiere | SOON | |
| 10 | Inkscape | Adobe Illustrator | SOON | |
| 11 | Open Office Draw | Adobe Illustrator | SOON | |
| 12 | Scribus | InDesign | SOON | |
| 13 | Synfig | Adobe Animate | SOON | |
| 14 | Ardour | Adobe Audition | SOON | |
| 15 | Master PDF | Adobe Acrobat | SOON | |