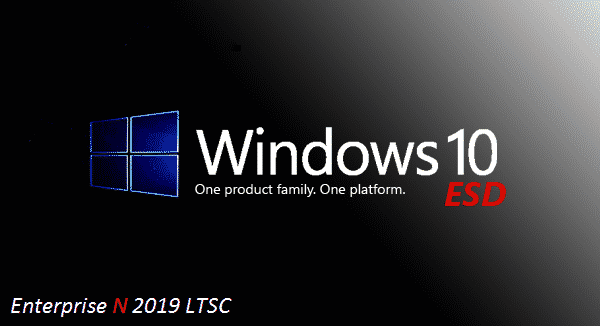 Windows 10 Enterprise LTSC 2019 Pre Activated The upgraded version of Windows 10 LTSB The most stable Windows 10, Good for gaming and Doesn't Include the Store, Cortana, Edge, and Other Apps that could slow down pc for Long Term use for free.
About Windows 10 Enterprise Edition:
Windows 10 Enterprise provides all Windows 10 Pro features, with additional features to help IT-based organizations. Windows 10 Enterprise can be configured on three branches, semi-annual channel, semiannual (target) channel, and Windows Insider.
For Windows 10 Enterprise 2019 LTSC includes Office 2019 Pro Plus, check here:
Windows 10 Enterprise With Office 2019

Windows 10 LTSB TO Windows 10 LTSC Label changes:
As part of compatibility with Windows 10 and Office 365 ProPlus, we adopt common terms to make it as easy as possible to understand the maintenance process. From now on, these are the new items we'll use:
Semi-annual channel – we will refer to the current branch (CB) as "semi-annual channel (target)", while simply refer to the current branch of business (CBB) as "semi-annual channel."


Long-term service channel – Long-term services (LTSB) will be referred to as long-term service channel (LTSC).
Windows 10 N Editions
N versions of Windows are available in Europe and lack some media-related features. In Windows 7, Windows Media Player and Windows Media Center are missing. In Windows 10, Windows Media Player, Groove Music, Movies, TV, Voice Recorder, or Skype do not include.
[Windows 10 Enterprise LTSC Pre Activated RELEASE INFO ]
* Format: Bootable ISO
* SOURCE: dvd-74865958
* CRC32: 3cefde95
* MD5 : 48f3c14f293d0ff948e416189119cf41
* SHA-1: 55534a8502214217b69d256eb1ca557ab5616bab
[ CONTENTS ]
Integrated / Pre-installed:
* Flash Player Security Update:
* KB4462930
* Servicing Stack Update:
* KB4465477
* CumulativeUpdate:
* KB4464455
SetupComplete / Post-install:
* .NET Framework 3.5
* Windows Defender Updates
* LANGUAGE: ENGLISH US
[ EDITIONS INCLUDED ]
* Windows 10 Enterprise N LTSC 2019 – STD
* Windows 10 Enterprise N LTSC 2019 – KMS
* STD = Standard installation – For those with own License Key
* KMS = Activated KMS_VL_ALL
[ FEATURES ]
* UEFI-ready
* (Use attached Rufus USB-tool to make UEFI-bootable).
* Diagnostics and Recovery Toolset 10.0 (Microsoft DaRT)
* install.wim compressed to recovery format (install.esd)
[ INSTALLATION & INFORMATION ]
* Create bootable USB (highly recommended) with Rufus,
* (attached) or burn to DVD-R at slow speed.
* Hope you will enjoy this release!
Activation Means: Promo code,  license key, Product key, Serial number, Registration key, Patch, Activator,  Reset Trial.
DIRECT FILE DOWNLOAD LINKS

Windows 10 Enterprise N LTSC 2019 X64 ESD en-US NOV 2018.zip
UP4EVER
DOWNLOAD NOW
Windows 10 Enterprise 2019 LTSC 2019 X64 ESD en-US DEC 2018.zip
File-upload
DOWNLOAD NOW
Make sure that you have a good anti-virus program in your computer or Download one of the listed antivirus software in our site to scan the file before unrar and installation
Antivirus Software Category
How useful was this post?
Click on a star to rate it!
Average rating / 5. Vote count: