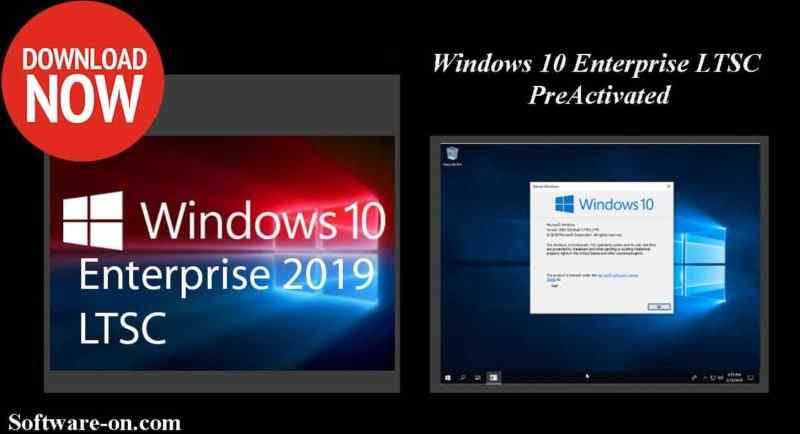 Windows 10 Enterprise LTSC and N LTSC Edition 6in1 ISO Pre-Activated The upgraded version of Windows 10 LTSB, free download the most stable Windows 10, Good for gaming and Doesn't Include the Store, Cortana, Edge, and Other Apps that could slow down pc for Long Term use for free.
Download Windows 10 Enterprise LTSC ISO Activation Key by KMS38 that provides all Windows 10 Pro features, with additional features to help IT-based organizations. Windows 10 Enterprise can be configured on three branches, semi-annual channels, semiannual (target) channels, and Windows Insider. This Windows 10 Enterprise LTSC & N Editions ISO for full version testing purposes before buying.
Note

:

software-on.com articles

are based on extensive research and practical testing if possible. For more information, see here: .
What is Windows 10 Enterprise LTSC Edition?
Windows 10 Enterprise LTSC Edition supports Microsoft's traditional support policy that was in place before Windows 10 (Like Windows 7, XP): it is not updated with new features and updates for 10 years after it is released. Microsoft does not officially encourage the use of LTSC outside the "special purpose devices" that perform a static function and therefore do not require new features for the user experience. As a result, it excludes Windows Store, most of Cortana's functions, and most bundled applications (including Microsoft Edge). According to the Microsoft announcement, this service option has been renamed from the LTSB branch in 2016 to the Long Term Service Channel (LTSC) in 2018, to match the name changes listed above. (No features, no background service, and better games).
What is Windows 10 Enterprise N Edition?
Windows 10 Enterprise N Edition is a special version of Windows operating systems called "N" in Europe, which Microsoft had been forced to create because of a rule of anti-competitive practices by the European Commission, this edition includes all the base features of the operating system but without installing Windows Media Player and related technologies. In Windows 7, Windows Media Player and Windows Media Center are missing. in Windows 10 versions, Windows Media Player, Music, Video, Sound Recorder, and Skype not include.
Windows 10 LTSB to Windows 10 LTSC Label changes:
As part of compatibility with Windows 10, a common term will make it as easy as possible to understand the maintenance process. From now on, these are the new items:
Semi-annual channel – we will refer to the current branch (CB) as a "semi-annual channel (target)", while simply refer to the current branch of business (CBB) as a "semi-annual channel."
Long-term service channel – Long-term services (LTSB) will be referred to as long-term service channels (LTSC).
Advantages of LTSC over LTSB 2016
Microsoft renamed the Long Term Service Branch (LTSB) to the Long Term Service Channel (LTSC). Windows 10 Enterprise IoT and LTSC follow essentially the same policy followed by Windows 10 IoT 2016 and LTSB. The main aspect remains that Microsoft is only providing its industrial customers with feature updates every two to three years. As before, it comes with a 10-year warranty to provide security updates. However, Windows IoT Enterprise LTSC features many changes and improvements to its predecessor. The most important new features are listed below:
Windows 10 LTSC Security Features:
Log on faster to a computer running Windows 10.
The new Windows subsystem for Linux that provides space for Linux users under Windows.
NET Framework 4.7 Advanced Service Support (LTSB 2016 still uses 4.6).
Integrate a schedule that displays the user's activities chronologically.
A computer with LTSC can now be connected quickly to a nearby device via Bluetooth using Quick Pairing.
DIRECT FILE DOWNLOAD LINKS
This post will be updated soon:

Check our list below for the best alternatives, which is safe and truly free of charge:

1-

2-

3-

4-

5-

6-

7- (coming soon)