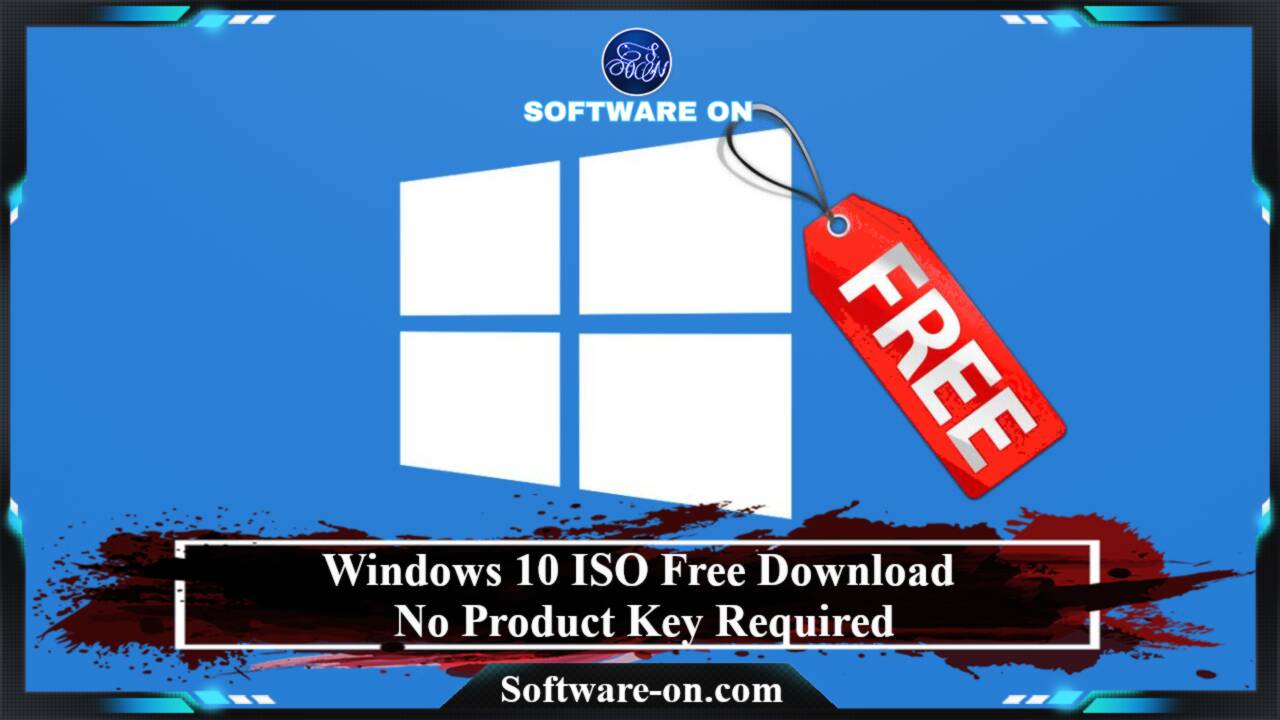 Many are searching for Windows 10 ISO free download and activation crack or tools to activate it. However, they don't know that they can officially download Windows 10 for free from Microsoft and use it without a Product Key or digital license in an easy and safe way. So why Windows is free now? In this short article, we will answer this and more other questions and give all the information you need to know including how to use and download Windows 10 ISO for free and also remove the watermark.
In short: Windows 10 is considered one of the easiest operating systems in existence today. Although there are many alternatives, it is still ranked first in the world among all operating systems. Microsoft is offering a Windows 10 ISO free download officially from their website. As users do not have to activate Windows 10 with a product key to use it permanently. However, it's only for personal use and with some worthless customization restrictions that can be replaced.
Note

:

software-on.com articles

are based on extensive research and practical testing if possible. For more information, see here: .
Where To Download Windows 10 ISO For Free?
PC users can download Windows 10 disc images (ISO File) officially and completely free from Microsoft Website.
The downloadable file contains different versions such as Windows 10 Home, Pro, and Education, which also includes "N" and "Single language" versions.
In addition, users can run the media creation tool from Microsoft to create installation media to burn a copy of Windows 10 on a USB flash drive a DVD, which will make it bootable to perform a new or a clean installation or reinstallation of the operating system.
While, if users are visiting Microsoft's website from a mobile or other operating systems like Linux, which is not a Windows OS, then they will be able to directly download windows 10 iso without a Media Creation Tool.
Can I Use Windows 10 Without Activation?
No product key is required to use Windows 10. In fact, users can continue using Windows 10 without activation. Therefore, Windows 10 users will face some few worthless customization restrictions that can be changed with some steps or replaced with other customization methods.
How Long Can I Use Windows 10 Without Activation?
In the past, Microsoft offered a 30-day trial version of Windows without any restrictions after the installation.
But now, there is no trial version of Windows 10 Pro or Home, so users can perform installation and use Microsoft Windows 10 permanently with personalizing restrictions. Also, users will see "Activate Windows now" notifications.
Unlike the previous versions, Microsoft doesn't force users to activate with the product key during the setup or after they complete the installation. Therefore, they can click on the "Skip for now" button during the installation process.
See below the list of limitations users will face if they don't activate Windows OS:
A watermark will be displayed at the bottom right corner saying "Activate Windows now".
Windows may send a notification asking to activate Windows.
A 'Windows isn't activated, Activate Windows now' notification will be displayed in the Settings menu.
The Personalization in Windows Settings will be restricted such as wallpaper, accent colors, themes, lock screen,.. etc.
Despite all this, the most important thing is the updates, because it is important for security. Therefore, they will be still able to receive all updates from Microsoft.
Why Windows Is Free To Use Now?
Many who work in the technical field assume that Microsoft wants all people to use Windows. While we can say that it is a strategic marketing plan to maintain control of most of the market share of operating systems.
The proof is that Microsoft knows the people who use a cracked copy of Windows. So why haven't they patched the Windows?
Besides, there is no point in forcing PC users to buy a copy of Windows OS as they will switch to open-source operating systems such as Linux.
As nowadays, Linux distros such as Pop OS are performing better than Windows 10 in gaming and working. However, it still lacks support from some big companies like Adobe and of course Microsoft.
Moreover, Microsoft knows that those who use cracked Windows are usually people who cannot afford to purchase a copy. Additionally, most of them are personal users and students.
So the result of making Windows 10 iso free download, is that people will get a chance to be familiar with the Windows environment.
Windows 10 Is Free To Use, But Not For Businesses:
In fact, once people who used a cracked Windows or not activated Windows with a product key join a business or jobs. They will prefer to buy a fully legal copy of Windows in their work environment to be more productive and secure.
This will make companies require to purchase Windows licenses in bulk from Microsoft. Where the owner of a company cannot use cracked software, because that will expose them to legal accountability or puts their work at risk of being stolen since there is a huge security risk.
Accordingly, if governments discover that a business is working with cracked Windows, they will get a heavy financial penalty. Likewise, it's also a huge security risk for personal users and students to cracked Windows as they may lose all their data, devices, and also may subject to a financial penalty.
After all, regarding all cases, this considers a big win for Microsoft and of course for the users if they are not using a crack. As users will become familiar with Windows before decide to buy a product key. Businesses in all cases are forced to buy Windows from Microsoft.
Similarly, you can see the video below, it will also answer the question.
Check First: Dose Your Windows Is Activated With A Digital License?
You might be surprised that your computer has a valid windows 10 license.
To clarify, some laptops or PC hardware like motherboards have the ability to activate Windows 10 with a digital license automatically.
Some people may have a chance to activate Windows 10 Pro, if they have purchased a used motherboard, new motherboard, or had an old one previously. Accordingly, this may occur if Microsoft's server detects a valid license in the device.
In addition, if you are using your Microsoft account in your windows, then you may see "Windows is activated with a digital license linked to your Microsoft account", which means that you have a valid license for windows 10. This could happen if your account was connected to an old device or laptop that had a valid license.
So you need to check first if your Windows 10 is already activated with digital licenses by connecting to the internet.
How Do I Customize Windows 10 Without Activating?
In general, the only thing we are concerned about is a change of wallpaper. From my point of view, I don't think there is anything else worth changing. Therefore, there are many ways to personalize without Windows settings.
A non-activated Windows 10 will still provide the option to personalize as the following:
Right-click on any image, then click "set as desktop background".
In a web browser right-click on the picture, then click "Use image as wallpaper".
Open the photos app, then on the right side at the top, click on See more (they appear as Three points), then from the menu click on "Set as" then choose from "Set as lock screen" or "set as background".
How To Remove Activate Windows 10 Watermark?
If your copy of win 10 has a watermark, here is how to remove the watermark via Regedit, so you can try the following:
Click Start and type in Regedit and hit enter
Go to "HKEY_CURRENT_USER > Control Panel > Desktop"
Find "PaintDesktopVersion" and double click on it.
Select Hexadecimal and change the Value Data to 0 Click OK and close the registry editor.
Restart win 10.
The watermark should now be removed.
If the watermark still there, then leave us a comment. Consequently, we can do other research to find another method.
Activate Windows 10 Using Microsoft PowerShell:
if you have a problem activating your Windows using Microsoft PowerShell may help you. As it may activate Windows 10 temporarily for 90 days. Then after 90 days' end, you can try to reactivate.
To activate windows 10 by PowerShell perform the following:
Click Start and search for "Powershell".
Right-click on it and select run as administrator.
In the PowerShell type "slmgr /renew" and hit enter.
Restart your PC.
Leave us a comment if this doesn't work. Consequently, we can do other research to find another method.
Windows 10 ISO Free Download Link: