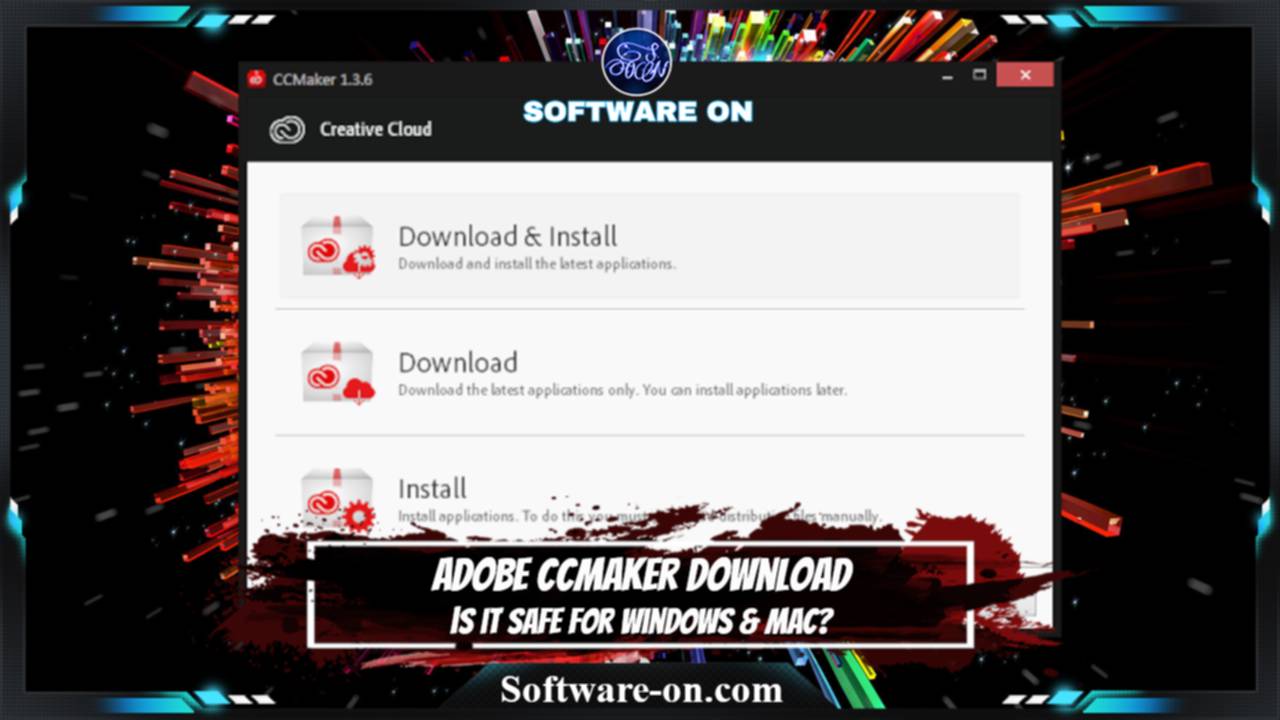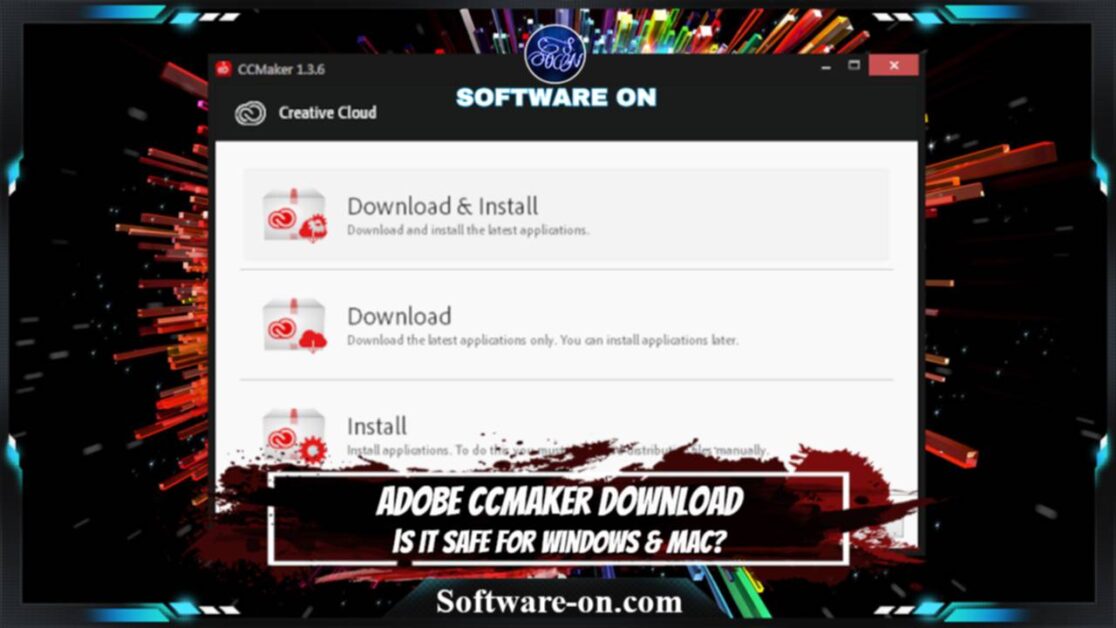 Adobe CCMaker Download: the application known as All in one Adobe CC downloader, installer, and activator that works only Windows OS. However, is Adobe CCMaker worth and safe? In this post, we share all the information you need. As it will help in understanding why should stay away from Adobe CCMaker and switch to the free Adobe alternatives. This also for those who cannot afford to pay the monthly Adobe subscription fee. In addition, free adobe alternative download links are included at the end of this post.
In short: CCMaker AIO Adobe the utility for downloading and installing apps same as Adobe Creative Cloud for Windows and activates them by using AMTEmu by PainteR. However, It is not worth it and absolutely not safe. Since it's based on AMTEmu and many other things. Besides, there is no CCMaker for Mac, so be careful and don't be tricked. In fact, you don't need such a tool. Since there are many free Adobe alternatives that are ready to download and serve the same purpose as Adobe apps.
Note

:

software-on.com articles

are based on extensive research and practical testing if possible. For more information, see here: .
What is Adobe CCMaker?
CCMaker is a freeware third-party AIO Adobe download application on Windows (Like Creative Cloud) developed by El Sanchez from Russia. Also, it includes AMTEmu by PainteR to activates the downloaded apps.
Adobe CCMaker combines the capabilities of download, install, and activation in one single application that developed based on Microsoft Universal C Runtime.
What Does CCMaker Do?
We can describe it as an Adobe Creative Cloud Maker, which let its users download and install products such as Photoshop, Lightroom, Camera Raw, Dreamweaver, After Effects, InCopy, Media Encoder, Character Animator, Audition, Illustrator, InDesign, Muse, Premiere, Bridge, Prelude, Dimension, and Animate CC.
Is Adobe CC Maker Tool Worth It?
No, since it let its users download the outdated version of Adobe products. Moreover, it contains a hacking tool, which is an AMTEmu that recognized as a dangerous activation or hacking tool that only works on old products.
Be aware that most of Adobe's competitors offer features in their software that have already outperformed these older versions that CCMaker provides.
And not only that, these competitors are competing strongly with Adobe paid products and in some cases, competitors offer better features in their free software.
We can define these competitors as open-source software and free alternatives to Adobe programs that can serve the same purpose.
Is CCMaker Safe?
NO, Adobe CCMaker is not safe. It's an unofficial tool and not trusted and can harm the safety of its users. Even more, it may lead to hack users' data and work.
Be aware, there is no safe crack or activation tool for Adobe products on Windows 10 and Mac or on any other operating system. These tools are developed to disable security and penetrate Adobe programs.
Based on experiments, tests. CCMaker is dangerous, which recognized as a threat by some antiviruses. Even more, it contains types of malware and trojans as well as it acknowledged as a hack tool. See the image below is one of the many tests we conducted.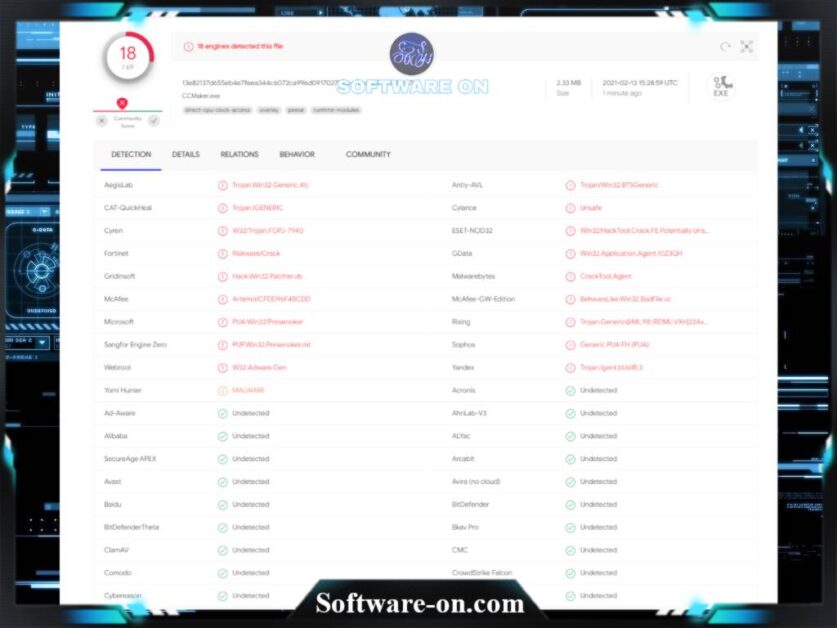 We are not recommended using or downloading any activation tool or unofficial tools including CCMaker from anywhere.
We provide you all the knowledge, information, and resources and you have to decide and take responsibility by yourself.
How To Use CCMaker?
Adobe CCMaker is an easy-to-use program that anyone can use with just a few simple clicks. But be aware that we do not recommend the idea of using this program at all, so please stay away from it.
Download Link: Just Use The Free Adobe Alternatives
As always, Adobe free alternatives are the safe solutions for those who cannot afford the monthly subscription fee from Adobe. Therefore, free alternatives and open-source software of Adobe products are the best way to keep your peace of mind from the consequences of use and download pirated or crack software like Adobe CCMaker that may ruin your life.
Check here: