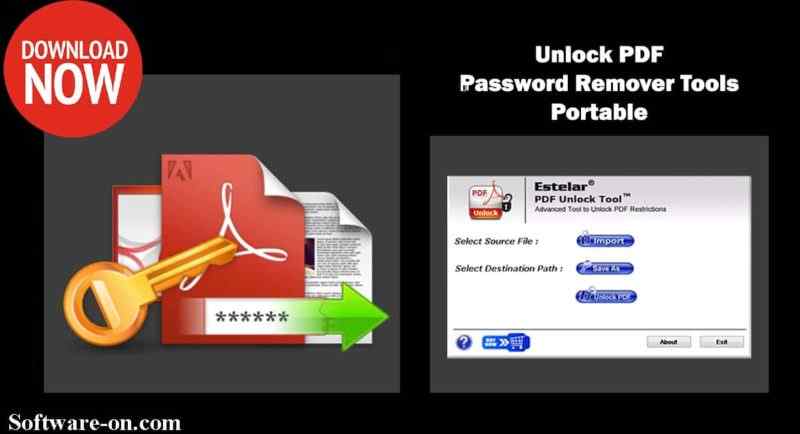 Estelar Unlock PDF password remover Portable tools that Unlock PDF and Remove password from PDF you forgot (PDF Unlock Tool for Windows).
You Forgot PDF password and cannot access to your PDF file? download free PDF Password Unlocker that can help you efficiently recover lost or forgotten password from PDF files created by Adobe Acrobat and other PDF applications in the computer system.
Note

:

software-on.com articles

are based on extensive research and practical testing if possible. For more information, see here: .
With this powerful utility, you can easily recover PDF password with 3 efficient password recovery methods: Brute-force, Brute-force with Mask, and Dictionary.
This PDF Unlock Tool is a fast Portable and easy-to-use desktop tool to unlock a PDF file by removing the security of a PDF password.
PDF Password Remover will enable this user to copy, print, and edit data from secure PDF documents. PDF Unlock Tool is the best PDF Unlocker software available.
PDF Unlocker is a stand-alone utility that can decrypt PDF files from 40-bit RC4 (Adobe Acrobat 3.0 or higher) to the latest 256-bit AES (Adobe Acrobat X and later).
Estelar Unlock PDF Tools Portable Features :
Restore PDF password efficiently
Restore lost or forgotten open password from PDF files
Support all PDF file of Adobe Acrobat,
Compatible with all Windows
Works well with a multi-core CPU that can speed up recovery
A standalone tool that doesn't require Adobe Acrobat installed.
tools that run on all windows such as 98/NT/2000/XP/Vista/Windows 7/Windows 10.
Provide quick access to all protected PDF data.
Support all versions of Adobe Acrobat PDF files up to Acrobat 2019.
Easy to understand, easy to use.
Estelar Unlock PDF Tool Portable have 3 Powerful Recovery Options:
Brute-force Attack: Help to try all possible combinations for forgetting everything about the PDF password.
Brute-force with Mask Attack: You can recover the lost PDF password efficiently in a short time by restricting the search area, provided you remember some symbols or the length of the lost password.
Dictionary Attack: Restore a PDF password based on a default list in the program or self-created list to shorten recovery time.
Estelar Unlock PDF Tool Portable has an easy and safe operation:
The GUI is easy to use and easy to use.




Program priority is available for higher recovery speed.




Shut down the computer automatically after restoring the PDF password.




AutoSave lets you restore password recovery after a stop.




Do not lose or corrupt data for your PDF files after you restore your password.
Estelar Unlock PDF Tool Portable Supports:
Windows 10/ Windows 8.1/ Windows 7/ Windows Vista / Windows XP/ Windows 2003/Windows 2000.
DIRECT FILE DOWNLOAD LINKS
You should know that in this era, official programs (free and paid) and open source software is the only safest solution. Anything else may cost you more than the money you think you're saving.

Therefore,check our list below for the best alternatives, which is safe and truly free of charge:

1-

2-

3-

4-

5-

6-