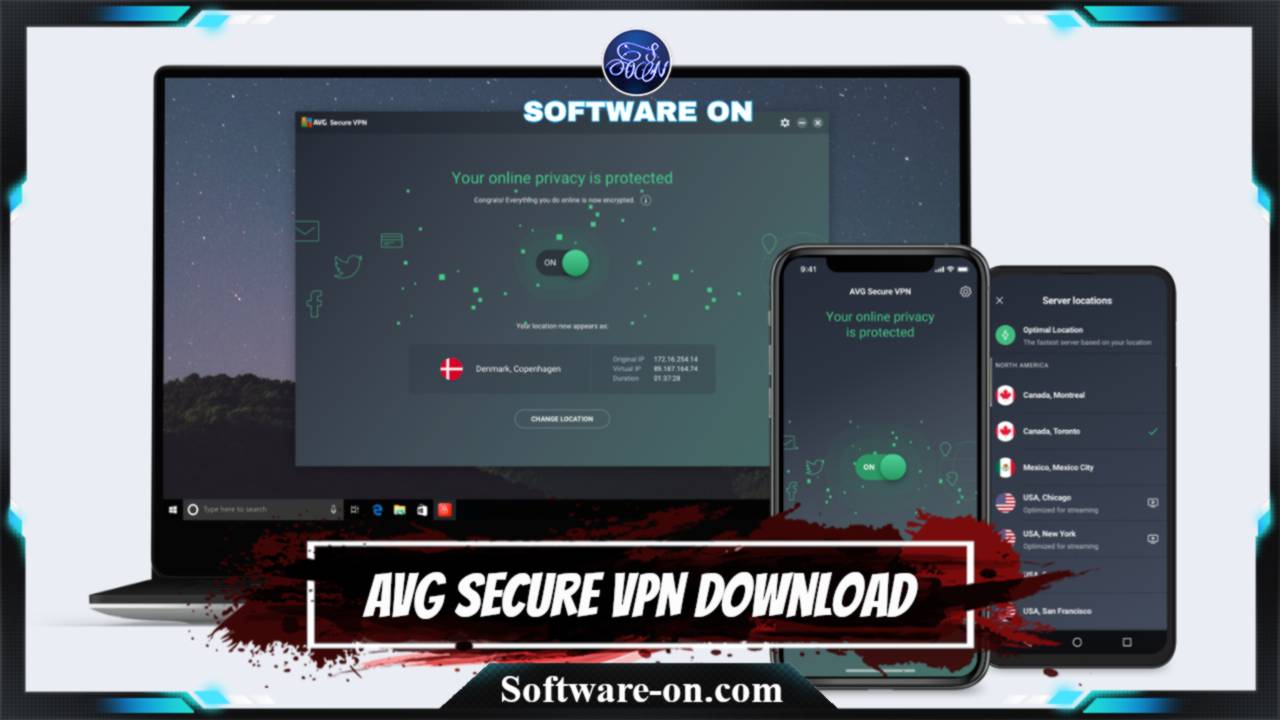 AVG Secure VPN Download: The Unlimited VPN on PC Windows OS, which is a program that worth trying. In addition, the free AVG trial period can be reset by endless times without any need for a serial key or activation code. In fact, there are many free virtual private network software out there on the internet. Typically, some of them are well-known and trusted but complicated to use. On the other side, some of them are unknown that may cause fear from trying to use. However, AVG secure VPN comes in between those virtual private networks, since it's easy to use and from a known company regardless of data problems in the early of 2020.
In short: AVG Secure VPN consider one of the easiest VPN programs to free download and install for beginners on PC Windows OS. it's also a good known virtual private network that provides many countries to connect to. However, there is a trust problem in the past. AVG Secure VPN provides a free 7 days trial, which can be renewed easily without the need for a serial key or activation code. However, the price is very affordable, so if you like it you can buy it, since the trial reset method may not last forever.
Note

:

software-on.com articles

are based on extensive research and practical testing if possible. For more information, see here: .
What Is AVG Secure VPN?
AVG Secure VPN is an application that can protect data and online activity from eavesdropping when connecting to the internet via secure virtual private network servers, which by using an encrypted private tunnel.
AVG Secure VPN can efficiently anonymize all internet activity and secures devices that connect to the internet. In addition, it can be used at any time for additional security and privacy, especially when using public Wi-Fi (unsecured wireless network), such as in cafes or airports.
Therefore, we can say that AVG Secure VPN typically offers many benefits such as:
Protection when connecting to the public network.
Anonymization by hiding the IP addresses that can be tracked when browsing sensitive sites.
Unrestricted Access by gain access to content such as games or websites that may be restricted.
Is AVG Secure VPN Good?
This secure virtual private network considers a good VPN to use, which protect and hide your IP addresses on the public WiFi networks and unlock restricted website and games due to your location. However, if you care about privacy you should know that they keep details of the VPN connection for a minimum of 30 days.
Furthermore, you also must be aware that AVG and Avast are the same company. Therefore, it was discovered in early 2020 that Avast was collecting user's data and selling them to generated big profits.
How To Activate AVG Secure VPN (Unlimited Trial Reset)?
Not only AVG virtual private network program is easy to use, but it is also easy to activate. In fact, everyone can easily download, install, and use it and without registration. In addition, users can get an unlimited VPN that contains many country servers to connect without effort for a period of free 7 days trial.
Wait just for a second, yes, AVG secure VPN is free for 7 days trial, but it can be renewed and reset over and over again without any need for a serial key or activation code in such a very easy way through the following simple steps:
Close the program complete (Check icon in the taskbar).
Uninstall the program after or before the end of the free trial.
Reinstall the program normally at the same location or any.
Open that program (No need to restart your PC).
Chose the location you need to connect to.
Turn on your VPN by clicking "ON" and select "START 7-DAY TRAIL" in the pop-up window.
You now should see "Your AVG secure VPN is ready to go"
Although these are easy steps, some may need them. However, if you like this program, you should purchase it as it does not cost much. Additionally, be aware there is nothing completely free as they might have left such an easy activation method to collect user data.
How Much Does AVG Secure VPN Cost?
AVG secure virtual private network offers three forms of subscription that includes all the services with a 30-day money-back guarantee. Besides, many may see prices as very affordable and get even lower when subscribing to the 2 or 3 years plan. Check here the AVG VPN plans and pricing.
AVG Secure Virtual Private Network Features:
Encryption levels of 256 bit AES.
Simple and powerful.
Good speed.
Kill Switch.
Allows Torrenting.
Streaming support: over 50 locations.
Can unblock Netflix US, Amazon Prime, Hulu, BBC iPlayer.
Can unblock games without high Ping.
Low monthly cost.
Download Link: Free AVG VPN Offical