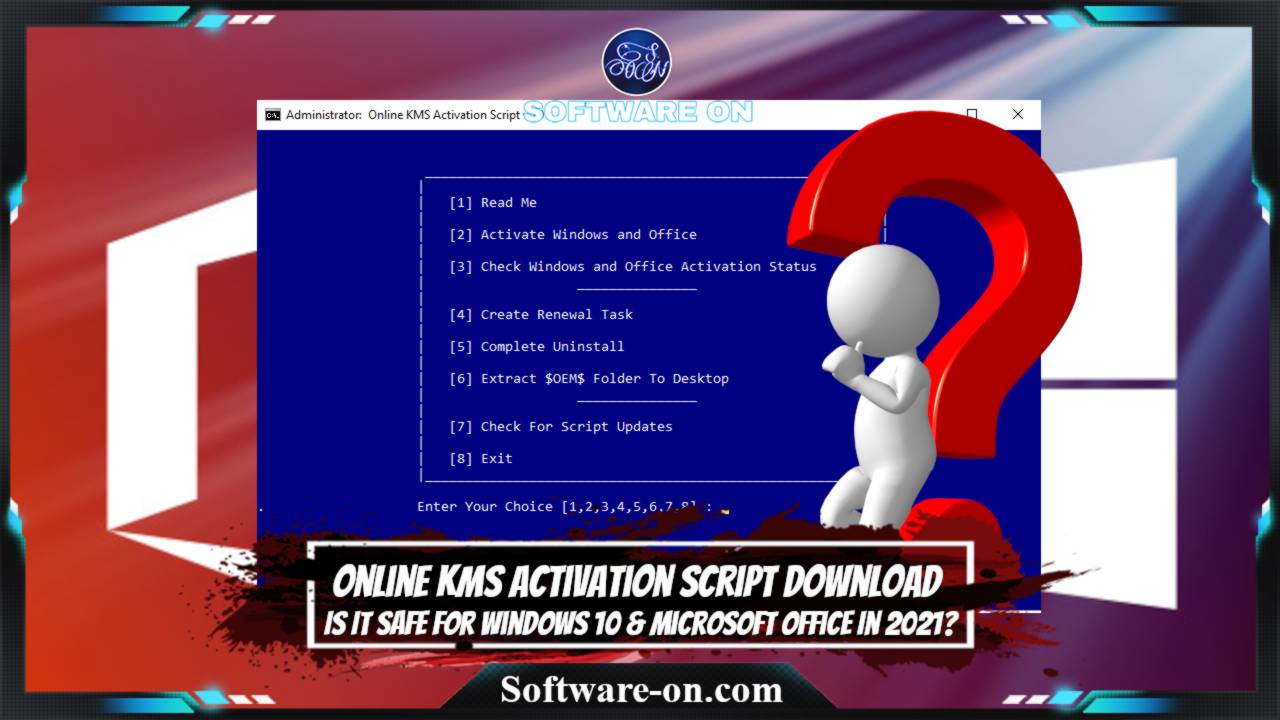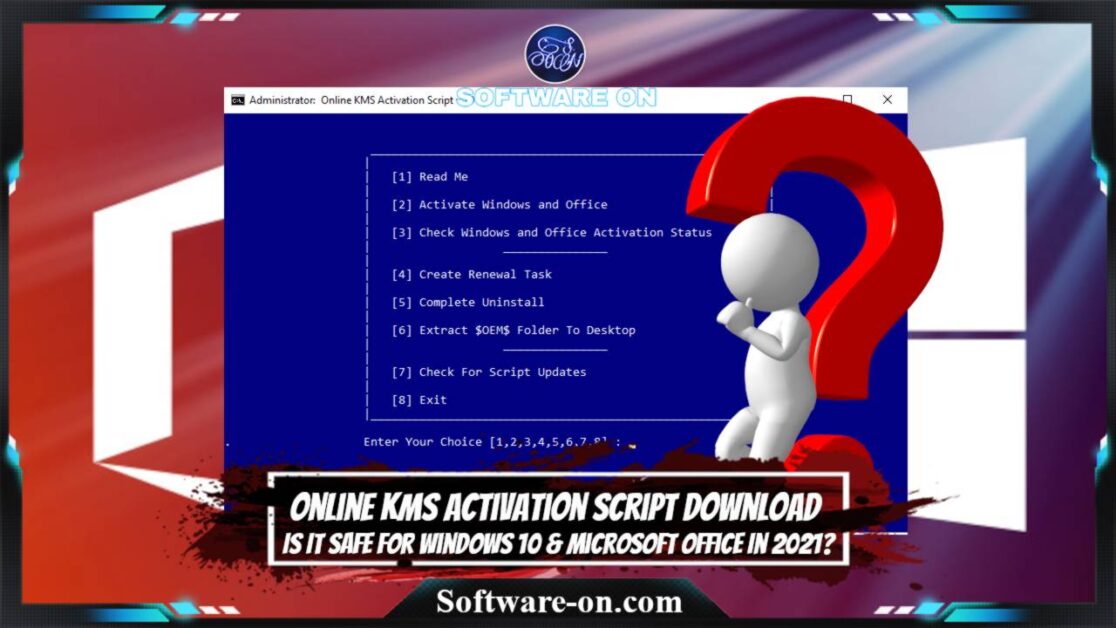 Online KMS Activation Script 6.0: the smallest and easiest activator that downloaded to crack Windows 10 and Microsoft Office. However, is Online KMS Activation Script 6.0 worth and safe as many people still claim that in 2021? In this post, we share all the information you need including download links for the official Windows 10 ISO and the free Microsoft Office Online.
In short: Online KMS Activation Script the command text tool ".cmd" that can activate Windows 10 and Office in 2021 fast and easy. However, it's absolutely not safe, it is the most dangerous tool ever. So don't believe what is published on the Internet that says it is safe because it is a text "cmd". Once it is used, it connects your system to unknown online servers owned by Hackers. Where you give them the right to access everything you have without your knowledge. Alternatively, Microsoft Office Online is free. Also, the official Windows 10 can be used without activating it for life. In the same way, if the free Microsoft offers not satisfying, then there are so many free and safe open-source alternatives you can try without the need for crack tools that will expose your data and business to risk.
Note

:

software-on.com articles

are based on extensive research and practical testing if possible. For more information, see here: .
What Is Online KMS Activation Script?
KMS Activation Script is a freeware open-source tool based on the command text "cmd" that can automatically activate versions of Windows and Office for 180 days by connecting to KMS servers over the Internet.
To clarify, this command text application sometimes identified by its full name which is "online KMS activation script v6.0.cmd". Because it's just a command prompt file "cmd" that contains some text orders for the system. In addition, it has the feature of not installing anything on the Windows system.
For more details, this program can activate various old and new versions of the Microsoft operating system in a fast and easy way, such as Windows 10, 8, 8.1, 7, Vista, and XP. Similarly, it works also with Microsoft Office applications, such as 2010, 2013, 2016, and 2019 editions.
However, it must connect to KMS servers over the Internet, so it requires an Internet connection. It's Just like the classic activator but the online KMS does not install a local KMS server on the computer system and uses an online server, which the activation will last 6 months.
Is Online KMS Activation Script Worth In 2021?
No, because anyone can easily download free Windows 10 officially and use it for a lifetime without activating it. Also the free standard edition of Microsoft Office Online through the browser.
Though, activating Windows 10 and Microsoft Office are getting easier and easier over time. So why Microsoft does not move to prevent these cracks and activations tools?
Many see that Microsoft wants to maintain the large number of people who use their programs and also increase their numbers, no matter how they got it. So they continue to dominate the office software and operating system market. Especially because of the increasing number of competitors and the high quality of their programs.
Therefore, if you see that Microsoft's free offers are is not enough for you, there are so many open-source alternatives that including free office software and a free operating system that serves the same purpose as what Microsoft can offer and maybe better.
Is Online KMS Activation Script Safe?
Now let us move to the most important thing in this post, as there are many who believe that Online KMS Activation Script is safe, because it is based on a command-line script ".cmd" and does not install any files on the system, and it's easy to see and modifying source code by anyone. As a command text application, it does not contain any viruses or malicious programs. However, this is not true.
This program is not safe. In fact, it is one of the most dangerous activation programs for Windows and Microsoft Office, as it changes the links of the Microsoft servers that located inside the system and replaces them with links to unknown online servers. In turn, Microsoft programs become activated easily without a notable effort, also your system will be exposed to these unknown online servers, which is critical.
Moreover, the most dangerous thing about this tool that it gives these servers the ability to control your device since your system always connected to them every time you connect to the internet.
In fact, there is a chance that these servers are owned by some dangerous hackers who may exploit your device and the information it contains easily.
Then, why are you trying to activate Windows? Just to remove the sign that tells you to buy windows 10? Yes, this is the only most important benefit for Windows activation, if you are asking. So just for this!!! Likewise, or are you taking risks just because you do not like to use the free Microsoft Office Online? Really!!!
Supported Products by Online KMS:
For Windows VL only:
Windows 7, 8, 8.1, 10.
Windows Server 2008, 2008 R2, 2012, 2012 R2, 2016, and 2019
For Office VL only:
Office 2010, 2013, 2016, and 2019.
Conclusion: Download Windows 10 & Use Microsoft Office Online For Free Officially
Finally, Tools such as Online KMS Activation Script are absolutely not worth the risk. Since you can actually use Microsoft office online & download the official Windows 10 for free in their standard form. Consequently, you don't have to use activator tools that may expose your data and business to risk.
Therefore, keep your peace of mind from the consequences of using and downloading pirated or cracked software and use only the official software since it's free. Additionally, you might want to try free open-source applications that are similar to Microsoft products, which will be added to this post later.
Check here: