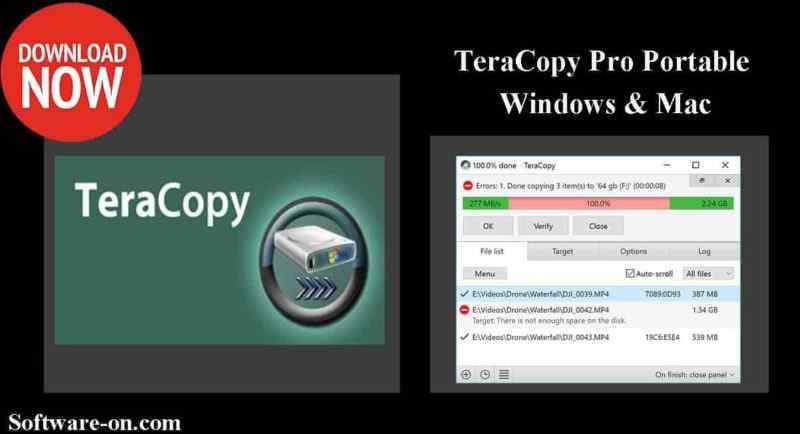 TeraCopy Pro & Free: download the software designed to transfer, copy, and move files fast and more secure on MacOS X and Windows. Especially, it can resume broken file transfers.
TeraCopy can skip bad files during copy and even shows the skipped files at the end of files transfer. In addition, it can calculate files CRC checksum on the fly to speed up source and target file comparison. Seamless integration with Windows Explorer will allow keeping working with files.
Note

:

software-on.com articles

are based on extensive research and practical testing if possible. For more information, see here: .
What is TeraCopy?
TeraCopy is a freemium file transfer tool designed as an alternative to the integrated file transfer feature in Windows Explorer. Also, its focus is on data integrity, file transfer reliability, and the ability to pause or resume file transfer.
TeraCopy Pro & Free Features:
Fix problems easily
File verification
Confirm drag-drop
Faster workflow
Copy/move to favorite folders.
Select files with the same extension/same folder.
Remove selected files from the copy queue.
Download Links: TeraCopy Free & Pro
You should know that in this era, official programs (free and paid) and open source software is the only safest solution. Anything else may cost you more than the money you think you're saving.

Therefore,check our list below for the best alternatives, which is safe and truly free of charge:

1-

2-

3-

4-

5-

6-