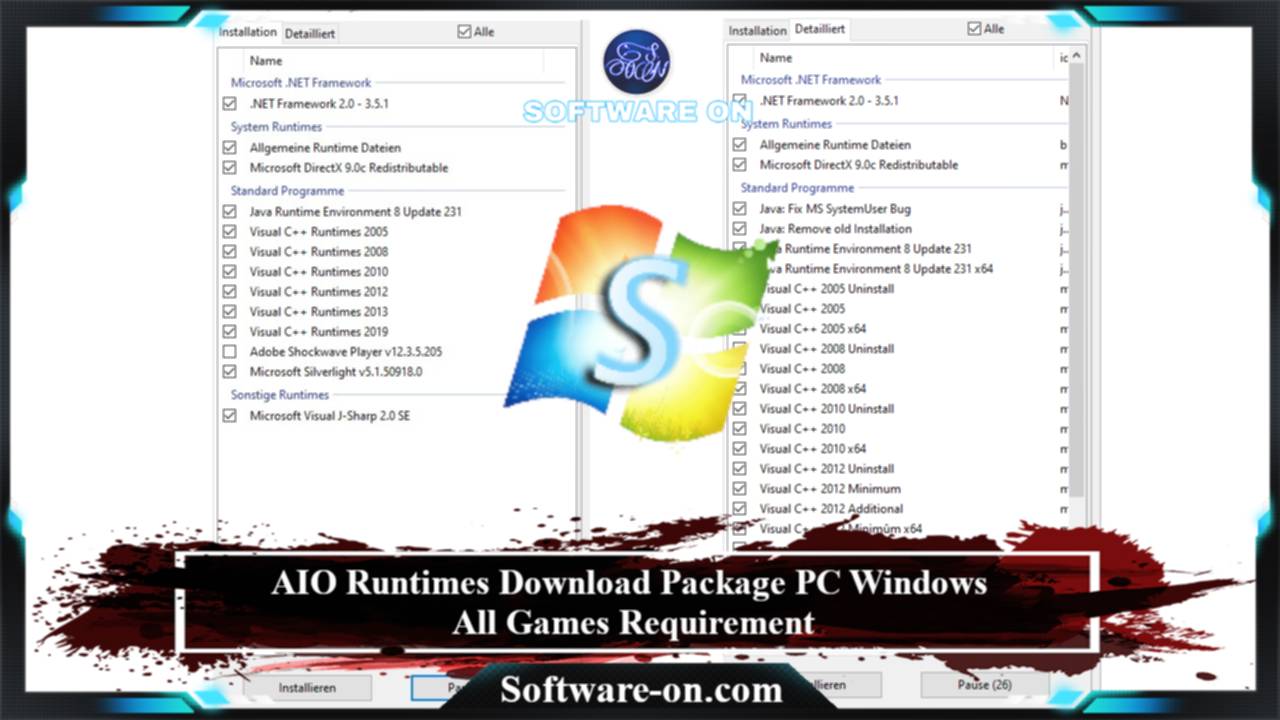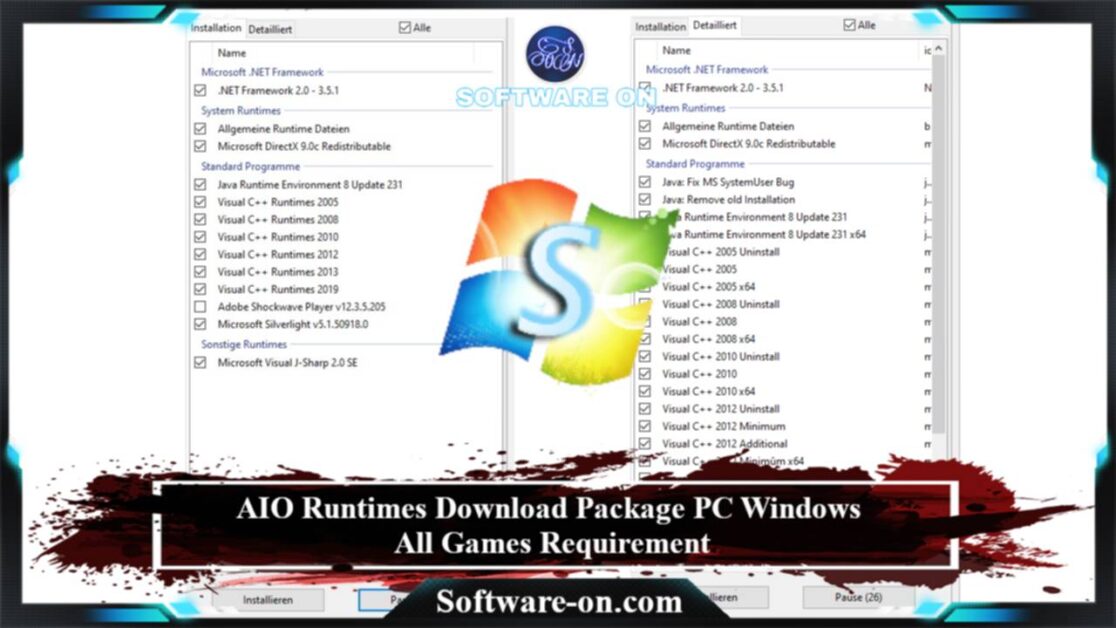 All in One Runtimes Package: the best AIO requirement that is needed to be download for Windows, the collection that provides your system with a selection of all important files, which needed to be installed on PC Windows. Especially, to run games efficiently without runtime errors. In this short article, we provide all information you need to know about these packages including AIO Runtimes download for PC windows, that are required for games.
In short: AIO Runtimes Package provides a simple way to download all the necessary files for gaming, heavy software, and the newly installed Windows operating system. Users can choose or install all packages, which include .NET Framework, Microsoft Visual C ++, Visual J-Sharp, Java, Flash, Silverlight, and Shockwave. However, the user may receive an alert from the system since this program is unknown to windows. However, the safest way is to download all Package from the Microsoft website.
Note

:

software-on.com articles

are based on extensive research and practical testing if possible. For more information, see here: .
What is AIO Runtimes?
AIO Runtimes is a free program developed by Sereby Corporation for Windows, which holds collection and packages of installers in one single file. Moreover, it includes the most important and necessary files such as; .NET Framework, Microsoft Visual C ++, Visual J-Sharp, Java, Flash, Silverlight, and Shockwave.
The importance of these programs comes from the fact that Windows operating system needs a necessary platform-agnostic application architecture called runtimes or frameworks. so that programs can execute correctly on the PC operating system.
These platform-agnostic application architecture Packages are a great way to provide newly installed systems with their necessary requirements such as .NET Framework Installer and Microsoft Visual C and DirectX, which makes PC Games and Windows run efficiently.
In fact, PC Gamers and Windows users can't ignore the runtimes packages, since they must be installed by default before running games, graphic design software, or heavy applications. In turn, to avoid or fix all runtime errors that may occur.
What Is WinPKG?
WinPKG.exe is mostly known as the package installer for All in One Runtimes. Plus, it's developed by Sereby Corporation according to the information we gathered. WinPKG.exe by Sereby is a file you use and run when you try to install any packages. Furthermore, this file shows a list of all the necessary programs for your windows operating system.
Is WinPKG Safe?
Some websites claim that the WinPKG.exe file can record inputs of keyboard and mouse and also can manipulate programs on PC Windows. Therefore, We recommend that you use good security software such as Kaspersky, Bitdefender, etc, in order to ensure the security of your devices when you try to use apps from a new or unknown developer.
WinPKG.exe is unknown for Windows, so you will most likely see an alert when you try to run it. The information that we have gathered about this program is uncomfortable and calls for suspicion. So we have performed several tests on the AIO Runtimes Package by Sereby, as the following is one of the tests: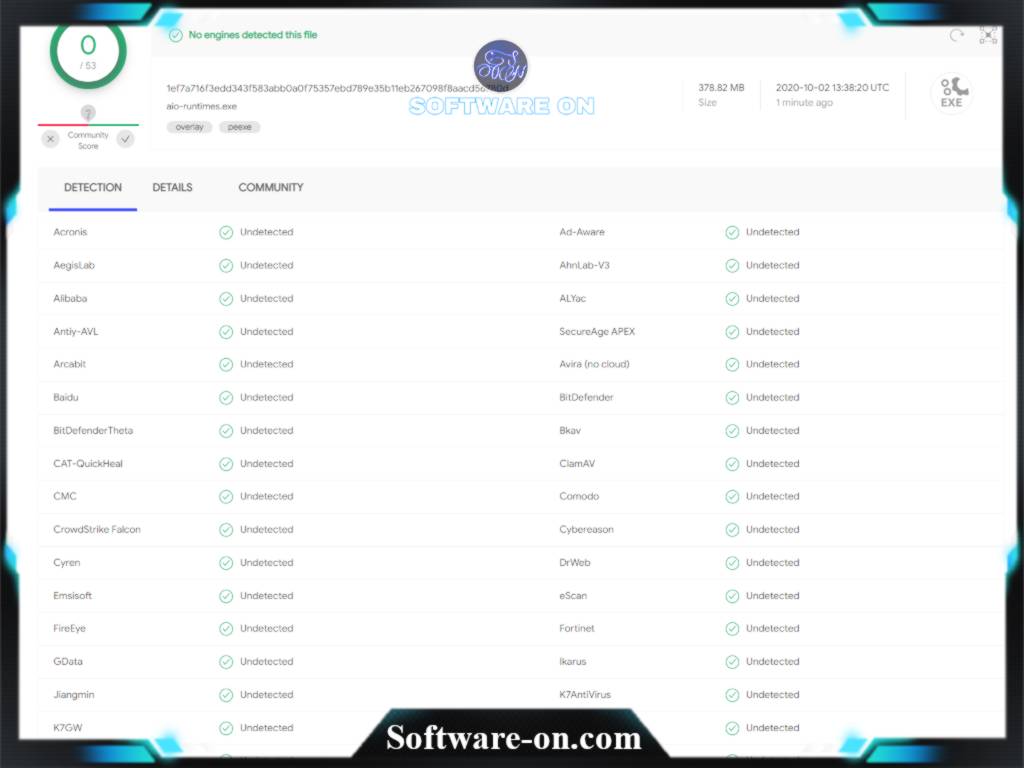 The results of the tests were similar to what was shown in the previous image, which shows that the All In One Runtimes are free of viruses and malware. To illustrate, several programs were used in these tests, including Malwarebytes, Kaspersky Security Cloud Free, and VirusTotal.
Despite these results, the information collected is inconsistent with the results, so we cannot express an opinion on whether is it safe to use or not to use this software.
How to Fix Runtime Error?
Installing All Runtimes packages can easily fix almost all runtime errors like Microsoft Visual C++ Runtime Library Error In Windows 10. Moreover, using programs such as All in One Runtimes packages or installing all these packages from Microsoft may prevent these errors in the first place from occurring.
For instance, by installing All Versions of .NET Framework and Visual like .NET Framework, Java, DirectX, Flash Player, Shockwave, Silverlight, ..etc. This will absolutely keep your PC windows works in a stable state without any problems.
As many Windows 10 users getting or could have an issue with a Microsoft Visual C++ Runtime Library Error at the start-up of the operating system. This error can happen randomly because of damage to Visual C++ Runtime Library or software that depends on a runtime system.
This means that PC Gamers and Windows users need to install All Runtimes packages in the first place before using heavy programs or games, which enables them to avoid runtime errors to run games and applications without any problem.
AIO Runtimes Gaming All .NET Framework & Visual Features:
Microsoft All .NET Framework Installer 4.6/4.8 + Updates.
Java Runtime Environment.
DirectX 9.0c Extra files.
General Runtime files.
Microsoft Visual C++ Runtimes (2005, 2008, 2012, 2013, 2015, 2017, 2019).
Adobe Flash Player (Opera, Firefox, Internet Explorer).
Microsoft Visual J-Sharp.
Microsoft Silverlight.
Adobe Shockwave Player 12 (Internet Explorer Plugin).
How To Use AIO Runtimes Gaming All .NET Framework & Visual Collection?
The most advantage of this application is that it is easy to use and does not need to be bothered. To be clear, after running this application it will work automatically and uninstall itself after everything is done. In addition, it can be stopped at any time and the user can choose the program to install or allow AIO Runtimes All .NET Framework to install everything by himself.
On the other hand, if you want to download and install these runtime apps from their official source. You will download each program separately. Pay attention, install only what you need. This is considered the safest way and what we recommend.
Get Runtimes From Official Source:
Instead of downloading "All in One Runtimes v2.4.8/v2.1.6 All NET Framework Visual" or any other version from an unknown developer. You can download all Runtimes software you need for free from its official source. Be aware, install only files you need, and don't stuff your operating system with unnecessary programs.
Finally, Download AIO Runtimes Package All NET Framework Visual:
In general, the all-in-one runtimes package is the easiest solution for everyone. As it contains all the programs you need in one bundled software. Although it is not completely reliable from our point of view because it's from an unknown developer. Plus, the unstable digital environment and the increase in cyberattacks make us always hesitated.
But if you are using good security software such as Kaspersky or Bitdefender then you don't need to worry. Furthermore, check the link below to download your All in One Runtimes that contains all NET framework visual and compatible with Windows 10, 7, 8, Vista (x86/x64).