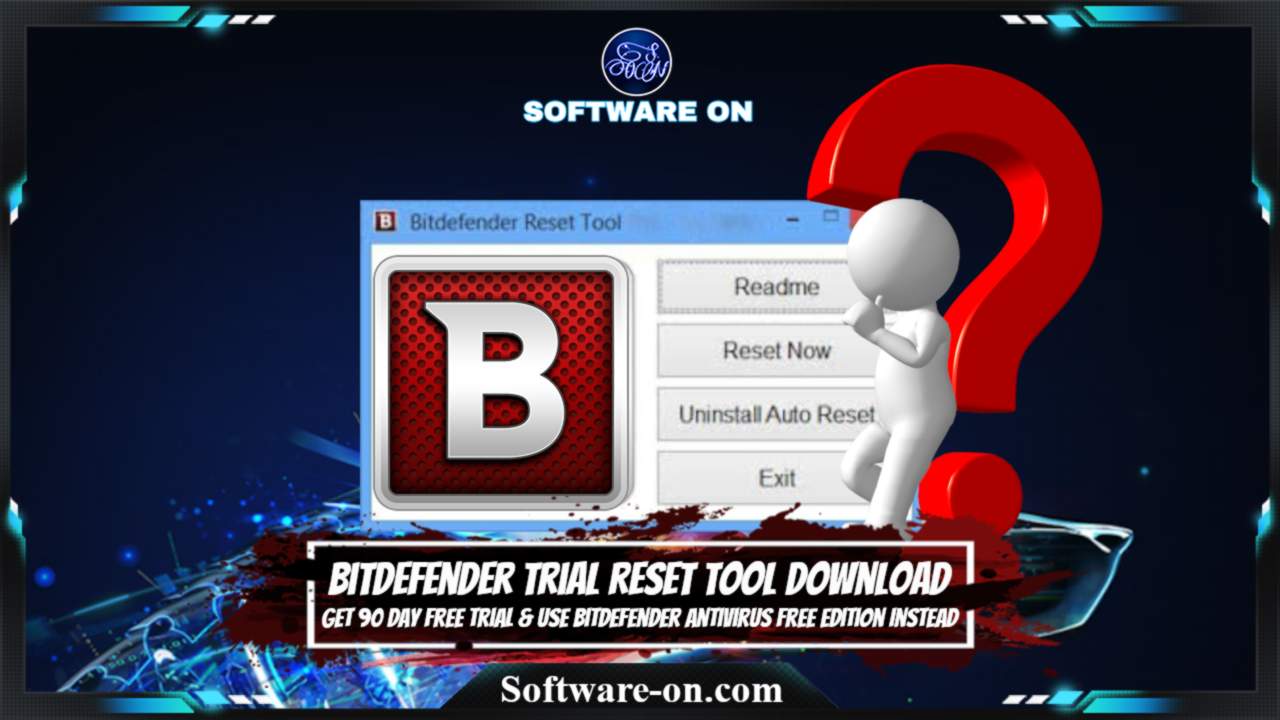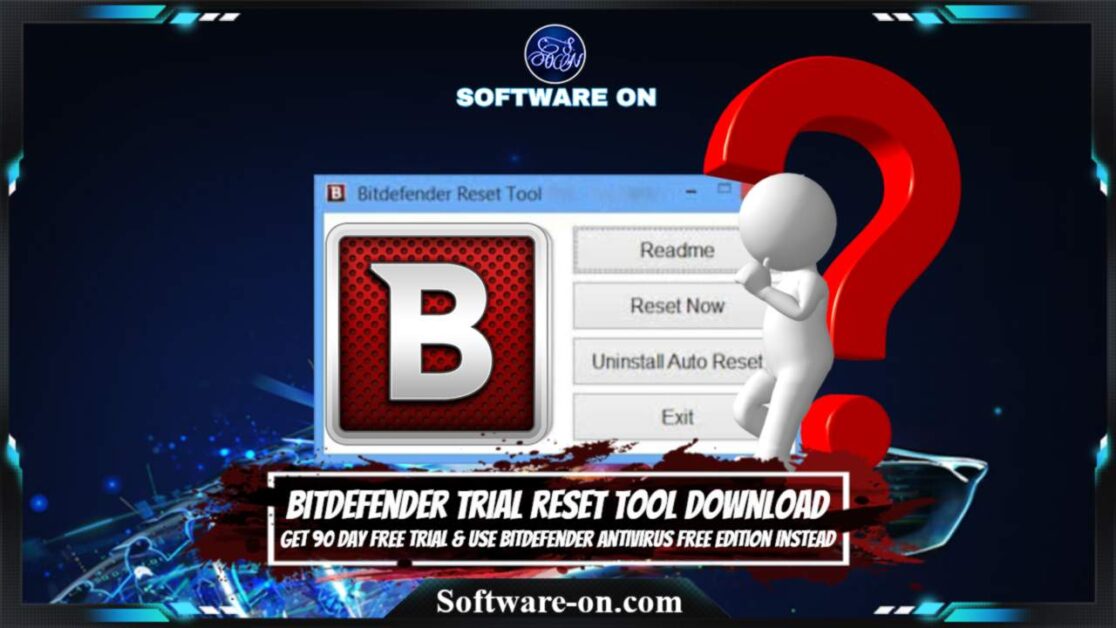 Bitdefender Trial Reset Tool: one of many ways that many still search to reset the trial of Bitdefender Total Security and Internet Security. However, do these tools and methods are worth and safe in 2020 & 2021? In this post, we share everything and all the information you need. Furthermore, we share Bitdefender extended 90-day free trial offer and the download links of the Bitdefender free edition antivirus which is enough and safe for regular users.
In short: Bitdefender Trial Reset Tool such as Rv2 or Rv1,…etc. These tools and methods are not worth the effort and it's not safe at all. These considered as activation, renewal, and resetter tools that used on Bitdefender security antivirus to crack it, which will expose you to viruses. Alternatively, the Bitdefender antivirus free edition is enough to protect your devices. Furthermore, Bitdefender extended 90-day free trial offer is really good to try the paid edition for a long time.
Note

:

software-on.com articles

are based on extensive research and practical testing if possible. For more information, see here: .
What Is Bitdefender Trial Reset Tool?
Bitdefender Trial Reset is a freeware software tool that allows resetting and renewal of the trial period for Bitdefender products. To clarify, this tool will delete all the history and registry entries for Bitdefender software to extend its evaluation period.
Bitdefender Antivirus Reset Trial RV was one of the methods of resetting and renewing the Bitdefender license Trial. Especially, in a way that Extended Trial and to get free Bitdefender trial license periodically and original (for reuse trial period).
The way this tool works is by resetting the Bitdefender product's trial period. Therefore, when installing Bitdefender products such as Bitdefender Anti-Virus Plus, Bitdefender Internet Security, and Bitdefender Total Security; the user will get a trial period of 30 days.
However, when 30 days of trial end the product will ask to purchase a license key or code to renew Bitdefender and to continue using all the professional features of the top security software.
This tool claims that it can work with any version of Bitdefender. To clarify, it can help to reset the trial and activate Bitdefender products easily and without any problems. Moreover, it also claims that it can add 30, 60, and 90 days and renewal the Bitdefender products trial.
Is Bitdefender Trial Reset Tool Worth?
Bitdefender Trial Reset Patch is not worth trying in 2020 or in 2021. Since Bitdefender and most of the antivirus software companies compete in providing free editions and better offers every year. Moreover, security companies compete with each other in providing better features and add new ones in their free version antivirus.
Although Bitdefender Free and Paid version both have mostly the same features including real-time protection. However, if you are still looking for the Bitdefender advanced protection. Therefore, at the end of this post, we provide a free trial version of Bitdefender extended for 90 days. In turn, it will let you try all the premium features for 3 months without paying anything.
Is Bitdefender Trial Reset Tool Safe?
Bitdefender Trial Reset Patch is not safe and outdated. Also may be corrupt and may do unwanted behavior to your device. Moreover, it is unofficial software.
Be aware we are not recommended using or downloading any activation tool, unofficial tools, or crack software such as Bitdefender Trial Reset Tool. We provide you all the knowledge, information, and resources and you have to decide and take responsibility by yourself.
Moreover, we recommend using Bitdefender antivirus free edition. Also, try the 90 days free trial for Bitdefender Total Security. On the other hand, you can buy professional versions such as Bitdefender Antivirus Plus, Internet Security, and Total Security from the official website.
Correspondingly, if you are looking for an antivirus that covers necessary protection like viruses and malware protection then Bitdefender free edition is suitable and excellent for these purposes.
How To Reset Bitdefender Trial Period?
There are many ways, such as registering with a new email and other methods that are not worth the effort. Especially, if it is for personal use such as your personal device or gaming pc, the Bitdefender antivirus free edition is enough.
However, if it for office or work. There is a Bitdefender antivirus for business that called GravityZone Business Security. It must be purchased for businesses even if you are a small company, to prevent legal liability that may harm your business.
How To Activate Bitdefender Using Reset Tool Rv2 or RV1?
We removed all tutorials and all links of the Bitdefender Trial Reset Tool Rv2 and RV1. This is not a safe tool, so do not search for it. Even more, do not use activation tools or reset trial tools to activate the antivirus protection software. If you still insist, your antivirus will get infected and your computer will be infected as well before activating the protection again.
Conclusion: Get Free 90 Day-Trial & Download Bitdefender Antivirus Free Edition Instead
In the end, Bitdefender antivirus free edition is the solution for those who cant offer the price and want to protect their computer. In addition, the free 90 days free trial period is an excellent opportunity to try Bitdefender with all its features for a period of three months.
So keep your peace of mind and stay away from dangerous programs like Bitdefender Trial Reset Tool that may ruin your work and data.
Get your software safely by checking the links below: