Tech
Universal Adobe Patcher Mac & Windows: Is It A Safe Activator To Download?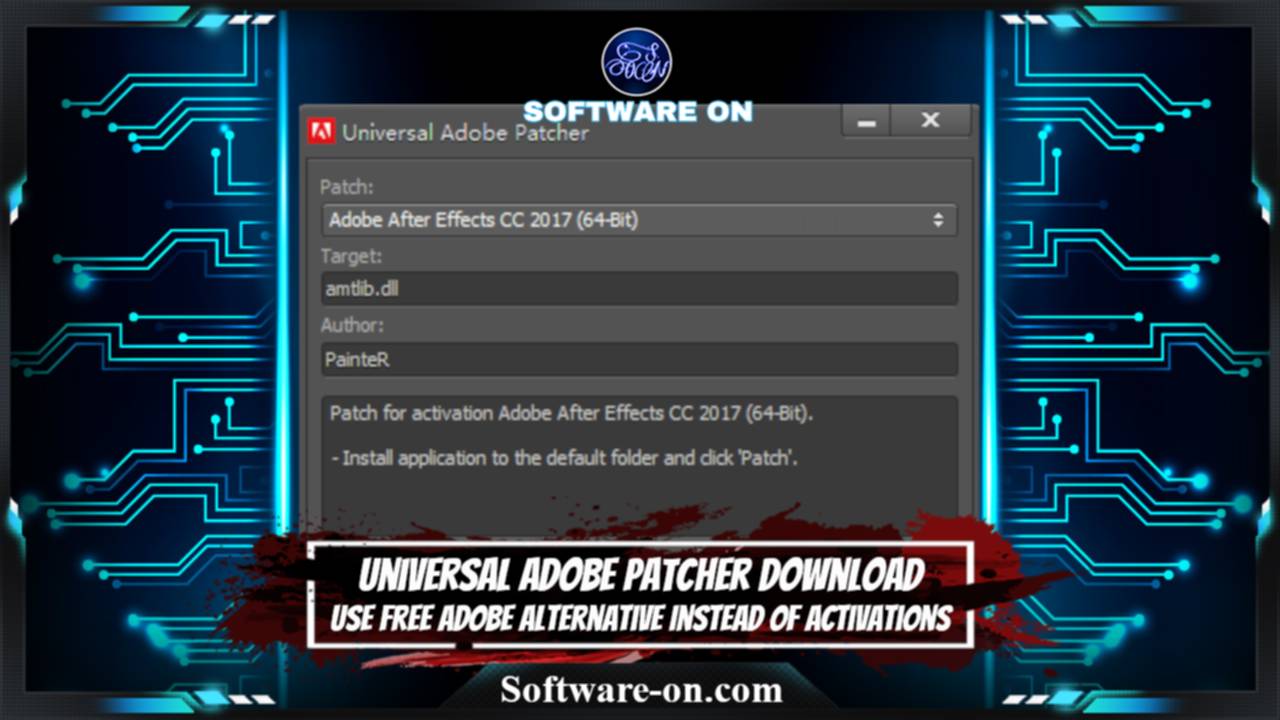 Universal Adobe Patcher V2.0: was a popular download that used to crack Adobe back in 2018 and early 2019. However, does Adobe Universal Patcher still work on Adobe Mac & Windows in 2020 and 2021? In this post, we share all the information you need including Adobe alternatives that are free to download.
In short, Universal Adobe Patcher v2.0 by Painter was considered as a fix and activation tool for any version of Adobe CC/CS products in 2017, 2018, and older versions of Adobe programs on PC Windows and Mac. However, It is not worth it, especially nowadays. As Universal Adobe Patcher is not working and not safe. In fact, you don't need to use or activate Adobe products at all. Since numerous free Adobe alternatives are ready to download which serve the same purpose as Adobe Creative Cloud packages.
Note

:

software-on.com articles

are based on extensive research and practical testing if possible. For more information, see here: .
What is Universal Adobe Patcher?
Universal Adobe Patcher (also known as Amtemu or Amt Emulator) is a freeware tool developed by Painter a famous Russian software hacking company. This tool intends to help to activate any Adobe software product of your own choice on PC Windows & Mac.
In fact, this program has not been updated in years. Whereas Universal Adobe Patcher v2.0 consider the latest version yet developed by Painter (Many may also call it Amtemu V0.9.3 / Amtemu V0.9.4 ).
It was one of the most famous tools among activators back in 2017. Since it relates to the most popular series of software suites of photo editing, video editing, graphic design, and web development applications. Because Adobe systems considered one of the best creativity software products.
This activation solution tool was work on all Adobe products like CS4, CS5, CS6, CC 2014, 2015, 2017, 2018.
In a more detailed way, it was working on programs such Adobe Photoshop, Lightroom, Acrobat, Adobe After Effects, Animate, Character Animator, Dreamweaver, Flash, Illustrator, InCopy, InDesign, Media Encoder, Muse, Prelude, and Adobe Premiere Pro.
Moreover, it may use on some of the 2019 adobe products that are still handed by an "amtlib.dll" file for the activating process.
Some may see the Universal Adobe Patch as an easy way to activate any Adobe product since it's all about one simple click. It was one of the most effective Adobe activation patchers software that worked effectively with Adobe 2018 releases and below.
What Does Adobe Universal Patcher Do?
Universal Adobe Patcher considers as a free activation tool. It's an unofficial software designed to activate any Adobe CC (Creative Cloud) and CS products with all their features for 2018 versions and older versions only.
What this program does is simply change the registry "amtlib.dll" key file that Adobe is used to in order to activate its programs. This is the latest version of its kind and there is no new version.
Is It Still Working On Adobe 2020 & 2021?
No, because the way that the Adobe Universal Patcher tool functioning depends mainly on the "amtlib.dll" key file in Windows 32-bit and 64-bit. In turn, does activate Adobe to obtain the full version.
Moreover, this method no longer works with the newest versions of Adobe programs since the end of the 2019 year and even in 2020 and 2021.
Is This Patch Worth Trying On Adobe Products?
Since it does not work and there are many free alternatives to Adobe programs, then it is not worth the effort and the risk at all. It's also an unofficial software and recognized as a hacking tool.
Is Universal Adobe Patcher Safe?
NO, definitely not, do not be fooled by information on the Internet that says that download and use Adobe Universal Patcher v2.0 safe. All spread data on the internet about the Universal Adobe Activation tool are copy-paste text, so it's not real information.
Be aware, there is no safe crack or Adobe activation tool at all. These programs are found to disable security and penetrate Adobe programs.
Based on experiments, tests. Adobe Universal Patcher v2.0 Tool is dangerous, which recognized as a threat by many antiviruses. Even more, it contains many types of malware and trojans as well as it acknowledged as a hack tool. See the image below is one of the many tests we conducted.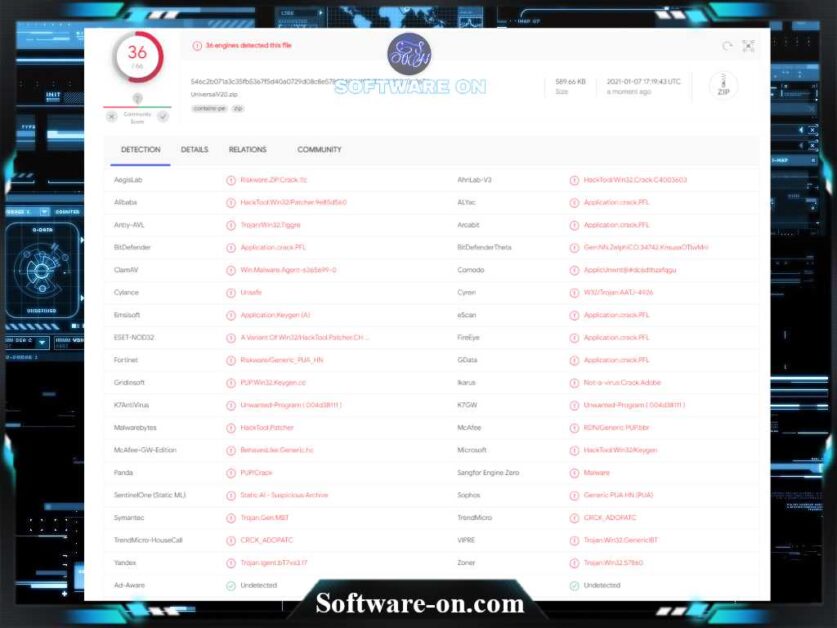 We are not recommended using or downloading any activation tool or unofficial tools including Adobe Universal Patcher from anywhere.
We provide you all the knowledge, information, and resources and you have to decide and take responsibility by yourself.
Updates & News About Universal Patcher Tool:
According to the sources that were available at the moment we updating of publication of this post, there is no new version of Adobe Universal Patcher v2.0.
There are those who say that it is an update of the AMTEmu CC AMT Emulator activation tool, as it may be called or known as Amtemu V0.9.3 / Amtemu V0.9.4 by Painter.
Therefore, do not be fooled by the information spread on the Internet, as there are no new developments for these titles.
How to Use Universal Adobe Patcher V2.0:
We do not recommend using or downloading it, because it does not work on new programs and also contains viruses that threaten your safety and the security of your data and devices.
After finishing the download, extract the file.
Run this Universal Patcher 2.0.exe as an administrator.
Select the Adobe product you want to activate. For example Adobe Photoshop CC 2018.
Click Patch, and choose the "amtlib.dll" file in the Adobe Installation folder.
This Patcher Can Activate & Support:
This is a list of the Adobe software that this activation program was supporting:
Acrobat DC 2018, XI, X
After Effects CC 2018, 2017, 2016, 2015, 2014.
Animate CC 2018, 2017, 2015, 2014, CS5, CS6.
Character Animator.
Dreamweaver CC 2018, 2017, 2015, 2014, CS6, CS5, SC4.
Flash CC 2018, 2017, 2016, 2015, 2014, CS6, CS5.
Illustrator CC 2018, 2017, 2015, 2014, CS6, CS5, SC4.
InCopy CC 2018, 2017, 2015, 2014, CS6, CS5, SC4.
InDesign CC 2018, 2017, 2015, 2014, CS6, CS5, SC4.
Media Encoder CC 2018, 2017, 2015, 2014.
Muse CC.
Photoshop CC CC 2018, 2017, 2015, 2014, CS6, CS5, SC4.
Lightroom CC 2018, 2017, 2015, 2014, CS6, CS5, SC4.
Prelude CC 2018, 2017, 2015, 2014.
Premiere Pro CC 2018, 2017, 2015, 2014, CS6.
Conclusion: Download Adobe Alternatives Instead Of Universal Adobe Patcher
As we always say, Adobe free alternatives consider as safe solutions for those who cant buy Adobe products because of the monthly fees price.
Therefore, free alternatives and open-source software of Adobe products are the best way to keep your peace of mind from the consequences of pirated and crack software like Universal Adobe Patcher that may ruin your life.
Check here: