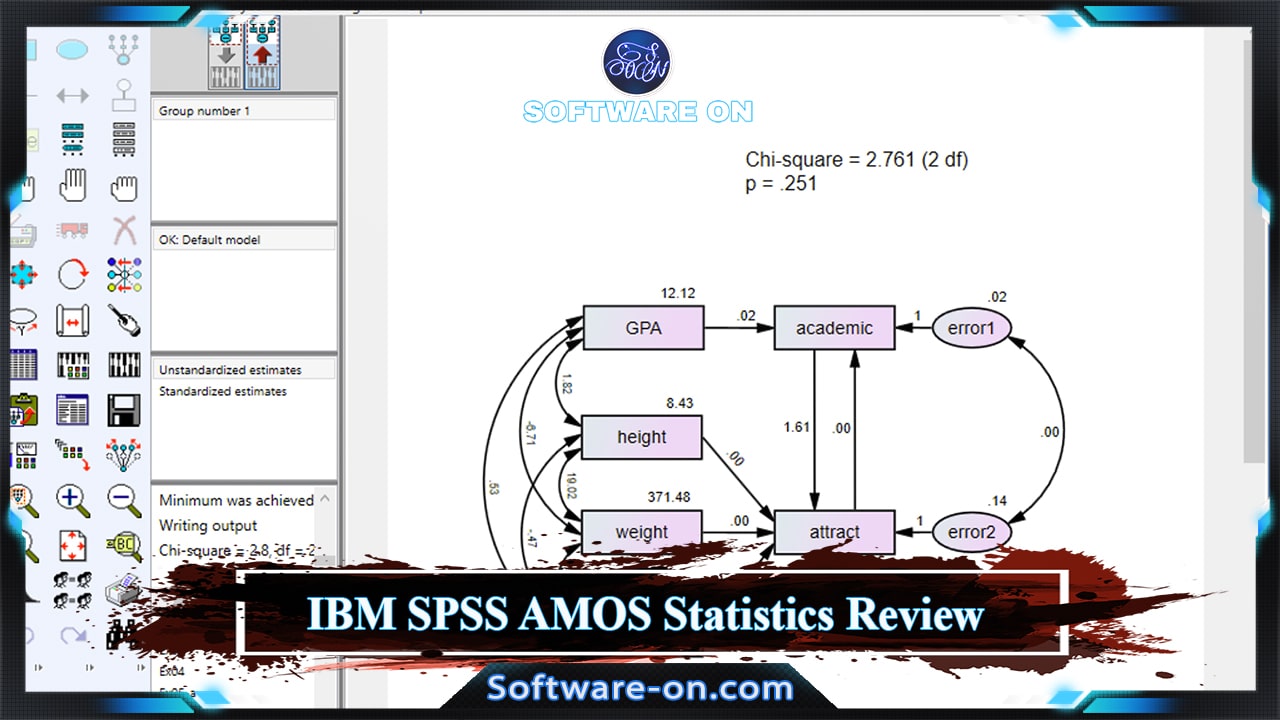 SPSS AMOS Statistics Software is the structural equation modeling (SEM) software on PC Windows 10. In this post, we share everything, which includes all the information you need to get full knowledge about this research supporter software.
IBM SPSS Amos is the powerful SEM statistical software that supports research and theories By testing hypotheses on complex variable relationships between observed and latent (unobserved) variables to quickly test hypotheses and confirm relationships (multilevel modeling).
Note

:

software-on.com articles

are based on extensive research and practical testing if possible. For more information, see here: .
What Is SPSS AMOS?
SPSS AMOS is a statistical program that supports the analysis of moment structures, and an additive module for multitrait-multimethod data. Its especially used for modeling structural equations, path analysis, and confirmation factor analysis, also known as variance analysis or causal modeling programs.
IBM SPSS Amos is the easiest program for any researcher to perform structural equation modeling (SEM). It makes it easy to create models and graphs of the assumed relationships among variables in different projects quickly and efficiently. by using this software, methods like regression analysis, Bayesian estimates, or any kind of source data are possible. It also works with DBF, MDB, XLS, TXT, or CSV files.
SPSS Amos allows users to build models with additional accuracy compared to other standard multivariate statistics techniques. The latest software version of IBM SPSS Amos v26 can build attitude and behavior models that reflect complex relationships using an intuitive user interface or software.
IBM SPSS Amos can be called a visual program, which can draw models graphically using simple drawing tools. AMOS quickly performs SEM calculations and displays results. So if you are a Scientific researcher or statistical scientist and want to try the full version of this statistical software before buying it then this is for you.
IBM SPSS Amos V26 statistics software considers the last fully-featured version that can be download on PC Windows 10. In addition, IBM SPSS Amos is a statistics software that can assist the researcher and their theories by adding standard multivariate analysis methods.
Is IBM SPSS AMOS Worth?
Yes, SPSS AMOS Statistics is the best software for researchers that can be used to displayed output on the path diagram and specify a model without drawing a path diagram through syntax. Moreover, this SEM resources software is an easy-to-use program and absolutely worth trying.
IBM SPSS AMOS including a free 30-day trial. However, the official free download for SPSS AMOS requires an IBM account, which also requires some information and it takes a little bit more time before downloading the statistical programs for free.
Making an IBM account and purchasing IBM SPSS AMOS may conceder the best and safest way for beginners who may need additional support, since beginners may see a difficulty in using this statistical software.
Correspondingly, we recommending using and downloading the IBM SPSS AMOS and try the full 30-day free trial, since its absolutely useful for researchers and before buying it.
SPSS Amos Statistics Software Features:
On-screen model for results: Create path maps for your analysis using drawing tools, instead of typing equations or typing commands.
Models that are best suited for your data: It provides exploration techniques, such as the search for structural equation model specifications, to help select a model from a large number of candidates.
Non-graphical modeling: It provides easy ways for programmers and non-programmers to define a structural equation model without drawing a route diagram.
Find unexpected relationships: After fitting a model, the SPSS path schema shows the strength of the relationship between the variables. Support your search Widens standard multivariate analysis methods, including regression, factor analysis, correlation, and variance analysis.
IBM SPSS AMOS Compatible:
The following operating systems are compatible with IBM SPSS AMOS:
AMOS Statistics Software Download Link:
You should know that in this era, official programs (free and paid) and open source software is the only safest solution. Anything else may cost you more than the money you think you're saving.

Therefore,check our list below for the best alternatives, which is safe and truly free of charge:

1-

2-

3-

4-

5-

6-