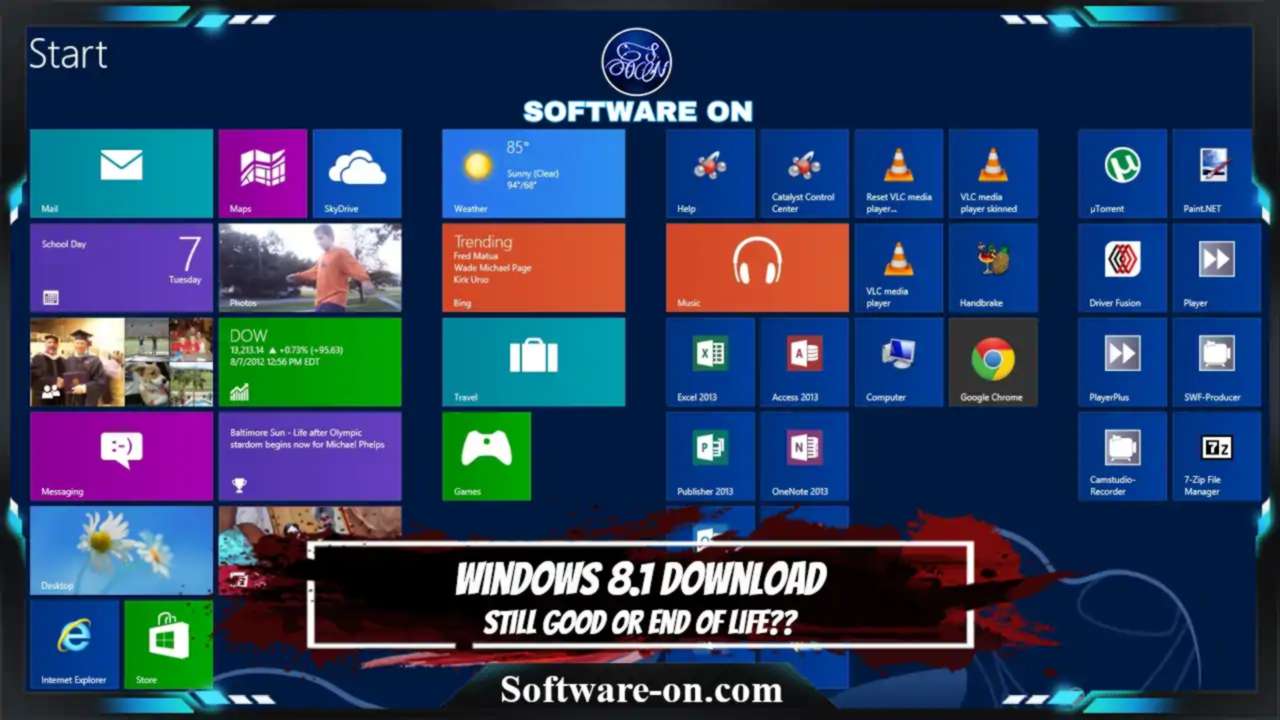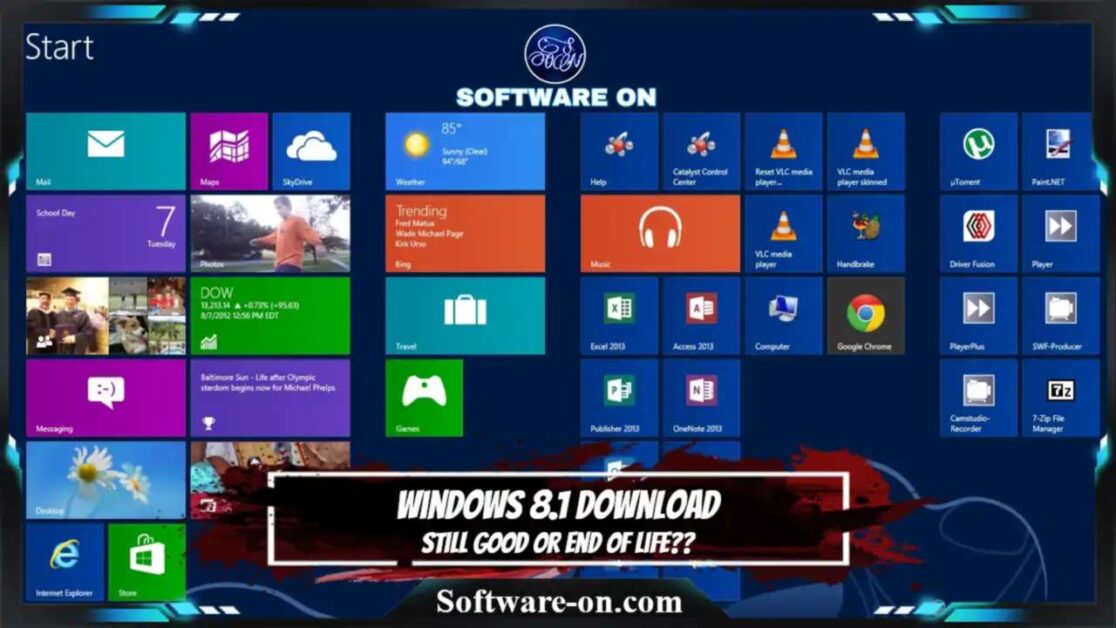 Windows 8.1: one of many Microsoft operating systems that can be download to operate computers and was produced in the past. However, is Win 8.1 & 8 still good and safe to use or they reached the End of their Lives? This article shares everything you need to know before trying to download Windows 8 or 8.1 as well as using modified OS copy such as Windows 8.1 ISO AIO 8 In 1 OEM ESD.
In short: Windows 8 & 8.1 were not bad operating systems for computers and tablets. In addition, many users who had a bad experience with Windows 10 are still using 8.1. However, it's not recommended to use such OS since they are unsafe and reached their end of life. Also, any modified activated OS copy is risky. Windows 8.1 can still be downloaded for free from Microsoft officially. But Instead, download Windows 10 ISO or use Linux Distros since these also free.
Note

:

software-on.com articles

are based on extensive research and practical testing if possible. For more information, see here: .
What Is Windows 8.1?
Microsoft Windows 8.1 is an operating system (OS) for personal and traditional computers that was produced by Microsoft. It relies on the mouse and keyboard as well as on touch-screen for computers and tablets. Also, It designed to address widespread Windows 8 complaints.
Also reinstalled the start button, a familiar navigation feature in earlier versions of the operating system such as Windows 7 & Windows XP. Plus, Microsoft made it easy to open, close, and multitask between multiple applications with the mouse.
Why Are Some Still Using Win 8.1?
Some users had a bad experience when updating to Windows 10 even if it was a clean install. In addition, they may have problems with the performance of their computer after updating such as progressive slowdown that happens over time or it could be due to Microsoft's excessive stuffing of services in Windows 10, which leads to bad performance and device suffers. In fact, some may roll back to Windows 7, which is absolutely a bad idea due to the end of support.
Likewise, check out the video below, which explains one of the opinions on why some are still using Windows 8 nowadays.
However, there is a big problem if decided to use Windows 8.1 nowadays, and what we will explain next.
Should You Still Use Win 8 & 8.1 Or Its End Of Life?
Although users can still continue to use and enjoy Windows 8 & 8.1 and it will continue to work. Unfortunately, Microsoft will no longer patch the security flaws in the 8 operating systems.
Windows 8.1 reached the end of life support on January 9, 2018, and extended support ended on January 10, 2023. Note that WIN 8 has stopped receiving hotfixes and security updates after January 12, 2016.
In fact, many programmers and hackers have already discovered the security holes in the system's defenses. So continuing to use Windows 8 or 8.1 is risky.
For more information, check the video below.
Furthermore, the problem does not end here, since also a lot of users are still holding to Windows 7, and this OS lost all support again in January 2020.
Is It Safe Using Windows 8.1 & 8?
Windows 8.1 still be safe until becomes un-supported completely in 2023. However, we are not recommended using it and you should switch to Win10. As we said before, the Microsoft support for Windows 8 and 8.1 has ended. This means that they become not safe.
Be aware, when operating system life ends it become outdated. So, If you still using it, then any hacker can penetrate your data, and in many cases, they may blackmail you.
Since there are many versions of Windows 8.1 & 8 on the Internet and they are increasing day after day. Most of these copies are mainly present and modified in a way to penetrate users' computers. Also, these copies may use your PC device and resources to mine cryptocurrencies remotely.
Therefore, do not trust any Windows 8.1 & 8 ISO download copy on the Internet, no matter how it looks good or has awesome performance. Since these OS copies are also modified from an un-supported system that is basically unsafe. Moreover, just only use and download operating systems from the official website.
See the following, an example of one of the popular modified versions of Windows 8.1 ISO download.
What Is Windows 8.1 ISO AIO 8 In 1 OEM ESD?
Windows 8.1 X64 AIO 8 in 1 is a modified OS copy that includes 8 types of Microsoft operation system. To clarify, it has Home STD KMS OEM, Professional STD KMS OEM, and Enterprise STD KMS. Furthermore, all of these types are a pre-activated bootable edition of Win 8.1 ISO.
Be aware, an activated operating systems are not safe to use. It's more dangerous than not receiving a security update. In fact, activated Windows has already created hacking holes. Therefore, no antivirus or any security updates can protect you if you are using a cracked Windows copy.
Conclusion: Download Windows 10 ISO Or Linux Distros OS For Free
Finally, there are so many windows alternatives such as Linux distributions as well as Microsoft provides a full version of Windows 10 on their official website. Linux distros can be very good alternatives. However, if you can't change to anything other than Microsoft Windows, then you only need to obtain it only from Microsoft.
Windows 10 is free to download and to use with some restrictions in customization and a watermark at the bottom of the screen. Still, you can overcome these limitations in many ways or leave them, since they don't affect the work of Windows at all and will continue to work normally like any other officially activated version of Windows 10.
You can still be able to download and use Windows 8.1 ISO for free from Microsoft, but be aware that everything will reach the absolute end in 2023 (we are not recommended using it). Check the link below.
Get your operating systems safely by checking these link below: