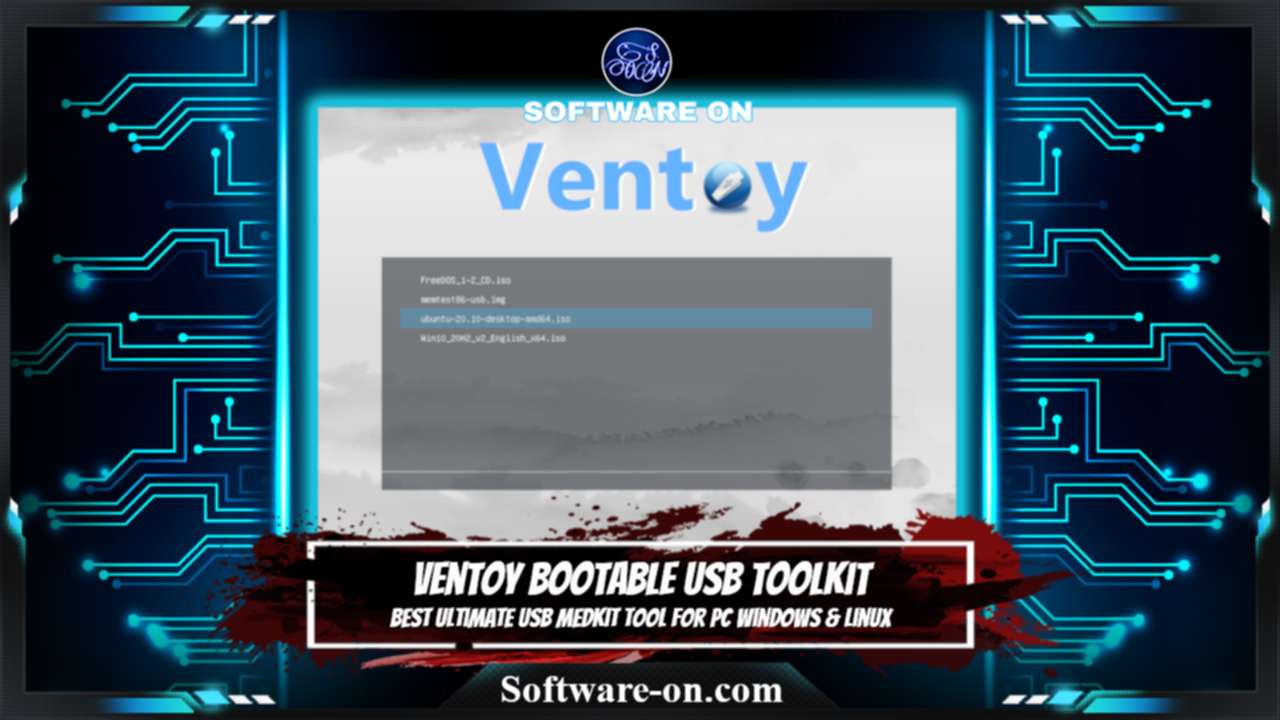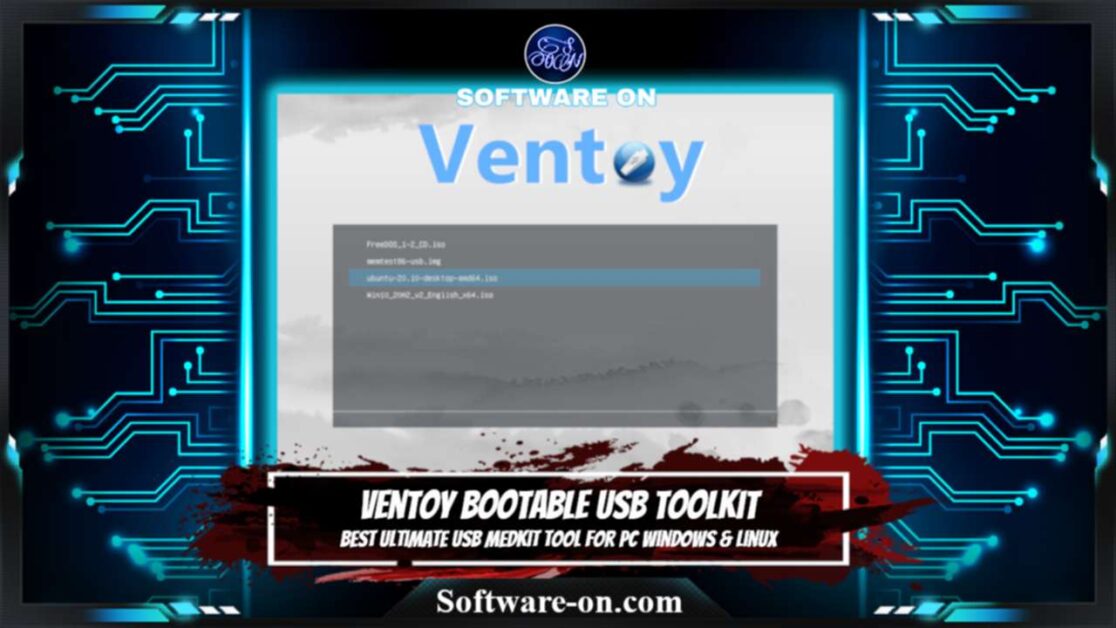 Ventoy Bootable USB Toolkit a simple free and open-score solution medkit that can create a bootable USB drive that includes multiple operating systems images for your PC such as Windows 10 and Linux OS distro. Moreover, In this post, we cover everything about this Ultimate USB Toolkit.
In short: Ventoy USB Toolkit the free open-source tool used to create multi-bootable OS images in a single USB drive. Besides, it's easy, simple, safe, and worth downloading. Moreover, it's not only for operating systems, but it can also be used as a USB medkit tool by adding backup, data recovery, or system rescue ISO image software.
Note

:

software-on.com articles

are based on extensive research and practical testing if possible. For more information, see here: .
What Is Ventoy USB Toolkit?
Ventoy USB Toolkit is a simple freeware open-source software or PC medkit tool that can create a bootable USB drive for ISO, WIM, IMG, VHD(x), and EFI files. Even more, this tool has the ability to create multi-bootable OS images in one USB.
Moreover, When you boot your computer PC, it will give you a boot menu to select the operating systems you to boot or install. Furthermore, it supports many OS such as Windows 10, Linux, WinPE, Unix, VMware, Xen, and more.
Not only operating system IOS and distros images, but also you can use the tool as a sort of medkit USB for data backup, data recovery, or system rescue with whatever ISO image software you want to include. In addition, you can add any security ISO image that can scan and clean your drives or do whatever you want to do.
As an example, you can create 2 or more images and boot and install Windows 10 ISO and Linux OS distro using the same USB Flash drive.
Is This Toolkit Worth It?
Yes, of course, Ventoy USB Toolkit is an easy and very simple USB portable software that can save you a lot of time and trouble. To clarify, you can store multi-IOS drives using only one USB flash drive.
Is This Bootable Toolkit Safe?
Ventoy Toolkit is 100% open-source software, which means that the source codes are available to everyone, and everyone can know how it works and use it however they want.
How To Use Ventoy USB Toolkit?
For a more clear and simple explanation, check out the following video that shows what this portable ultimate USB toolkit looks like, so you can get an idea about it.
Moreover, check these screenshots from the official website as this can also give you a good idea about this useful tool.
Ventoy USB Toolkit Features:
It's 100% open source.
Fast & Very simple to use.
Can be installed on USB, Local Disk, SSD, NVMe, and SD Card.
Boot directly from ISO, WIM, IMG, VHD (x), and EFI files (no extraction needed).
No need to be continuous in disk for ISO, WIM, IMG, VHD(x), and EFI files.
Both MBR and GPT partition styles are supported.
Support x86 Legacy BIOS, IA32 UEFI, x86_64 UEFI, ARM64 UEFI, and MIPS64EL UEFI.
Support IA32/x86_64 UEFI Secure Boot.
Persistence supported.
Windows auto installation is supported.
Auto installation supported for RHEL7/8/CentOS7/8/SUSE/Ubuntu Server.
Main partition FAT32/exFAT/NTFS/UDF/XFS/Ext2(3)(4) are supported.
ISO files larger than 4GB supported
Support native boot menu style for Legacy & UEFI.
Most types of OS supported, 700+ iso files are tested.
Linux VDisk (VHD/VDI/raw…) boot solution.
Not only boot but also complete the installation process.
Menu dynamically switchable between ListView and TreeView mode.
"Ventoy Compatible" concept.
Plugin Framework.
Injection files to the runtime environment.
Boot configuration files dynamically replacement.
Highly customizable theme and menu style.
The USB drive writes protected support.
The USB normal use is unaffected.
Data is nondestructive during a version upgrade.
No need to update Ventoy when a new distro is released.
Download Link: Get Ventoy Bootable USB Ultimate Toolkit
In the end, the Ventoy bootable USB toolkit is a good useful software that everyone would want to download and include in their favorite software and tools.
Therefore, get this software safely by checking the links below: