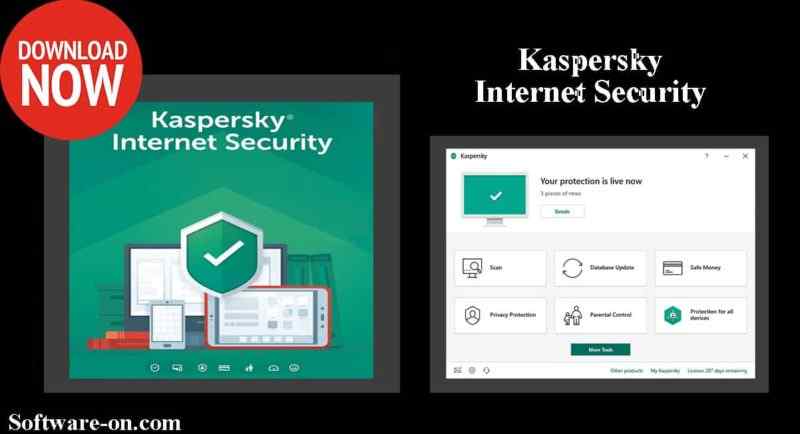 Kaspersky Internet Security one of the top online Security AntiVirus software, Download it for free from the link we share below the Security software for a secure internet connection that includes parental control tools, Web camera protections, a rugged web browser, anti-theft software, and up to 200 MB of secure data over VPN and protects PC Windows.
Kaspersky Internet Security is designed to Secure the secure online connection and activities for PC Windows, Mac OS Users and give attribute online Browsing safety. it's Antivirus and internet Secure that provides safety by blocking any program that is blacklisted, like trojans and infected downloads and shields the devices from the dangers. Also, it gives full real-time online protection, protects money & account details (online shopping or banking), safeguards identity, prevents attacks, blocks infected files.
Note

:

software-on.com articles

are based on extensive research and practical testing if possible. For more information, see here: .
What is Kaspersky Internet Security?
Kaspersky Internet Security is the same capabilities as Kaspersky Antivirus as well as some other features for Windows and Mac OS computers that provide the best internet secure connection solutions possible and online protection against many types of malware, protection against hacker attacks and Anti Spam.
Kaspersky Internet Security it's also easy to understand like the Core AntiVirus, it has a more powerful option that can protect PC windows. it provides many features to protect the system and files, personal data when connecting online also monitors all devices on your home network, stops installing unwanted software, and includes browser add-ons that measure website security and prevent banner ads. The customers can still obtain one more higher-level features from Kaspersky products, for example, Total Security or can go back to Kaspersky AntiVirus for a lesser-level of security features.
This program provides additional layers of protection during financial transactions and online banking, and the use of payment systems while shopping. It uses the latest cloud data protection, anti-phishing techniques, and a secure keyboard to prevent the theft of your personal data. It also contains an alert system to protect user or client devices from dangerous sites, and in turn, prevents malicious sites from accessing the user's devices. It helps to ensure the safety of children and Internet administrators while browsing the Internet, playing games, and enjoying social networks. It also protects Facebook, MySpace, and Twitter accounts and will not receive links or malware from anyone.
Kaspersky Internet Security Features:
Protect systems, files, personal data online.
Viruses Scan for computer or specific files, folders, or drives.
Purify and delete infected objects.
Software Cleaner: Remove ads and unused apps that slow down computer performance.
Software Updater: Find and install updates for applications.
Application Manager: Block APP changes to the OS and browser settings.
Anti-Banner: Block ads on the webpage.
Private Browsing: Block information collection about online activity.
Secure shopping & Safe Money: Securely perform online shopping and banking operations.
Parental Control: Set flexible limitations for accessing app and websites for children.
Kaspersky portal: Remotely running virus scans and database updates.
DIRECT FILE DOWNLOAD LINKS:
This post will be updated soon:

Check our list below for the best alternatives, which is safe and truly free of charge:

1-

2-

3-

4-

5-

6-

7- (coming soon)