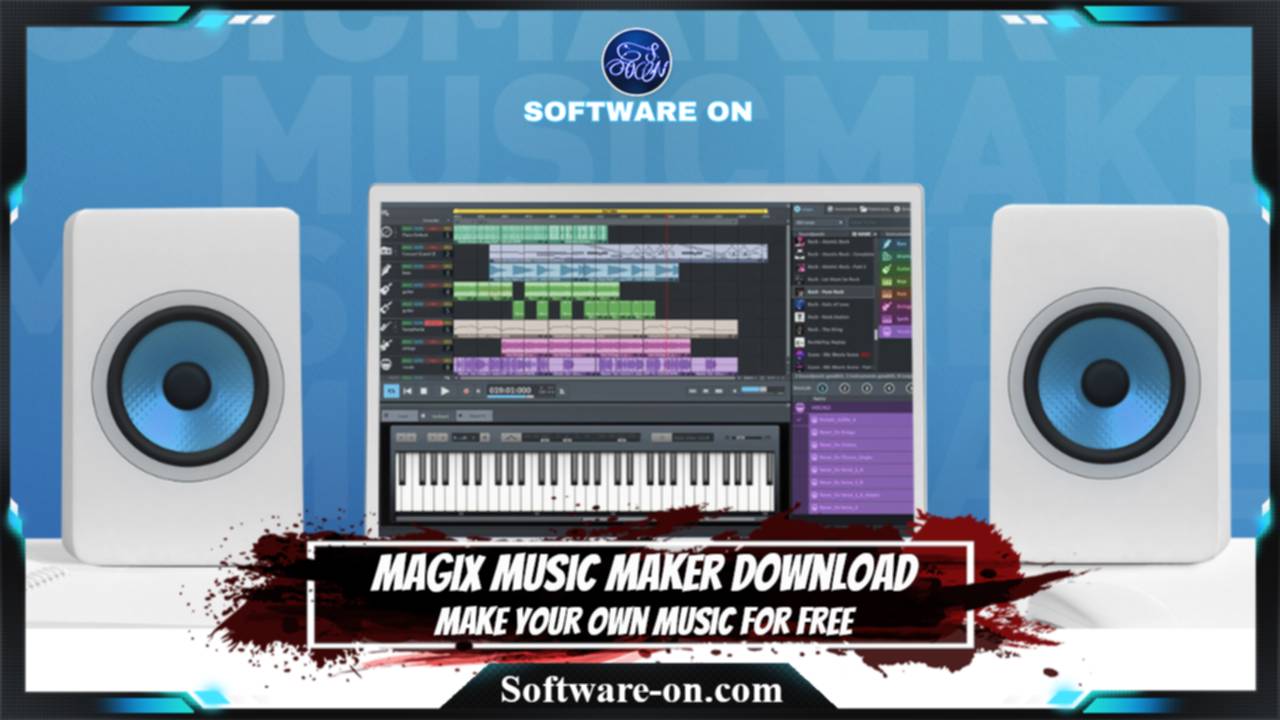 MAGIX Music Maker Download: The free digital software for creating songs on windows 10 OS. Besides, there are other releases you can check out such as MAGIX Plus and Premium editions.
In short, MAGIX Music Maker a professional digital audio software that designed to provide a means for users with little experience in music production to make songs in various forms. In addition, is easy, free, and good for beginners, which will help them to produce music in-home studio.
Note

:

software-on.com articles

are based on extensive research and practical testing if possible. For more information, see here: .
What Is Magix Music Maker?
Magix Music Maker is a digital music production and audio editor program designed by the Magix company, which is one of the most successful audio editing software in Europe.
It's easy to use software that anyone with no experience in music production can make songs in different types. Moreover, it's one of the many DAWs available. In fact, it is a great starter DAW for those who wish to dip their toes into making electronic music.
A simple interface and a brilliant line up of good virtual instruments mean you can dive straight in as a beginner.
It has a user-friendly workflow with musicians, producers, and sheet music makers with the full virtual piano keyboard.
Is Magix Music Maker Free?
MAGIX company has introduced its commercial products by offering a free edition of Music Maker. Which in turn, eliminates any obstacle that might hold you from unleashing your creativity.
Besides, you can easily download the free version from the MAGIX official website, which you can find the link at the end of this article. Additionally, you can check if there any offers or sales that are going on the Plus and Premium Editions.
Is Magix Music Maker Good?
Magix Music Maker is a decent choice for DAW software. In addition, the free edition is an excellent starting point and a great fit for beginners that can grow with it. Where it's considered the best DAW software that won't cost you anything.
You don't have to record any audio to make music in this Music Creator. Besides, it includes over a thousand loops and sounds in the sound pools, which also included with the free version.
How To Use Magix Music Maker?
The video below will introduce how to make music with this Music Maker software.
In addition, it will help beginners to produce music in-home studio.
Features:
Sound pool
Instrument multicore audio engine.
Sound import.
Mixer, MIDI editor, synthesizer.
Sound processing.
VST Virtual instruments.
Download Links: Free Music Maker Offical
Note: You may feel confused when you go to the official page. Anyway, don't worry the standard edition is free you just need to click on the purchase or free trial to get it for free from the download page.