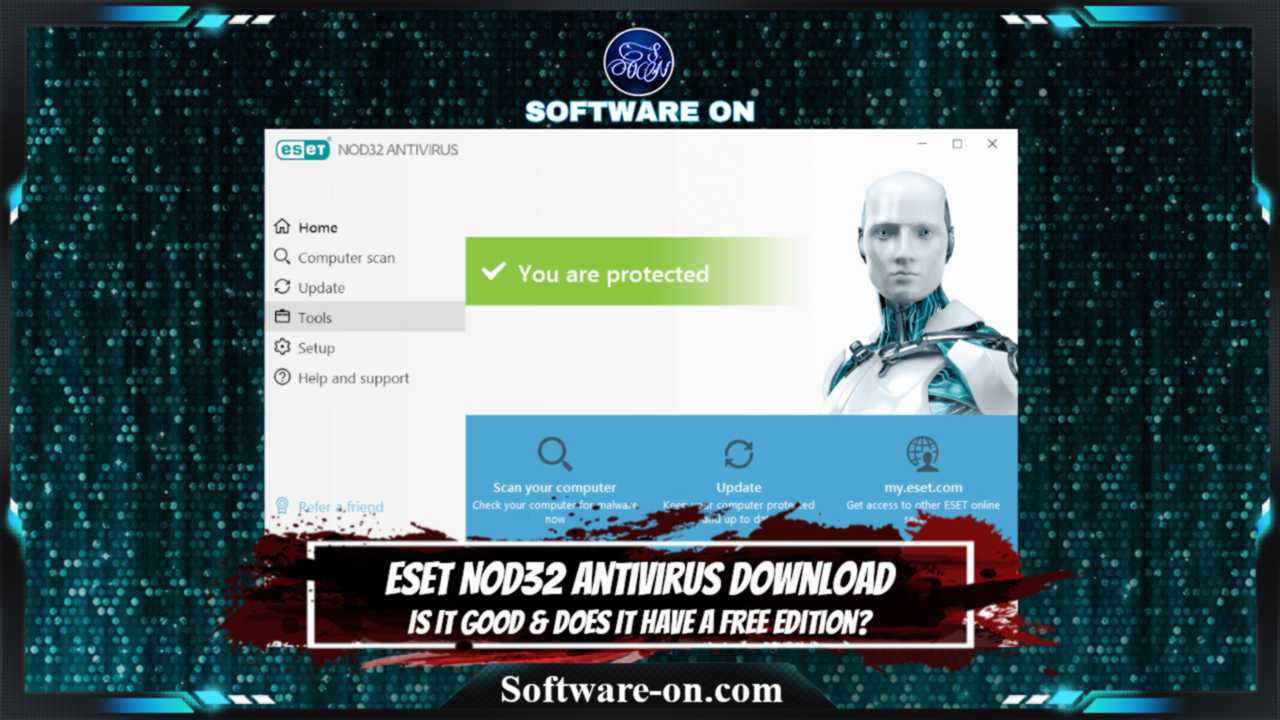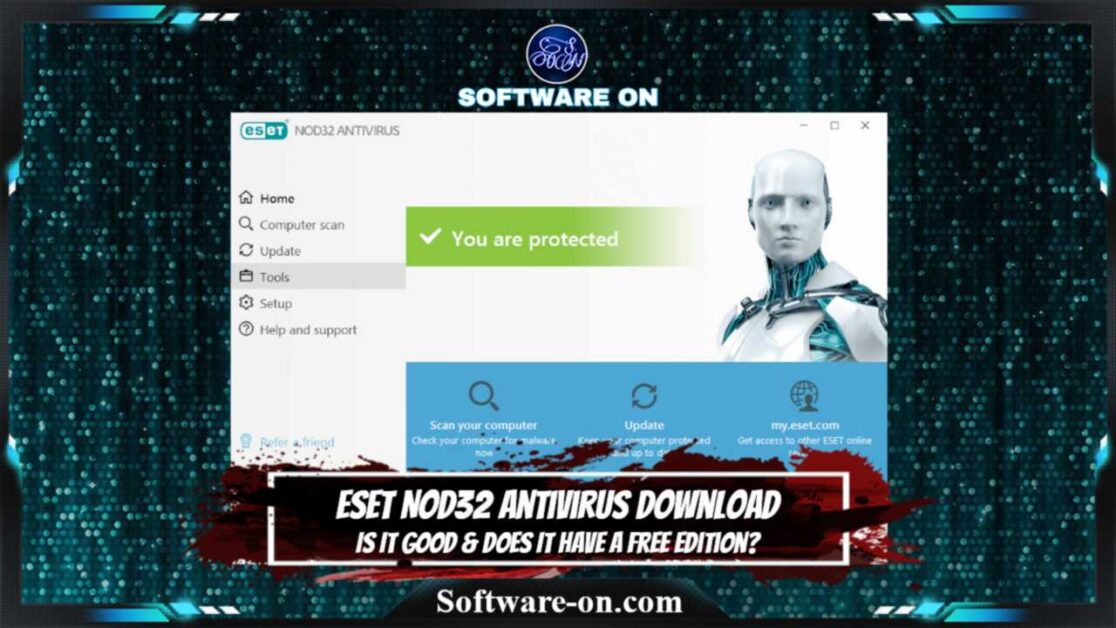 ESET NOD32 antivirus download With 30 days trial: The Popular the comprehensive protection against viruses and internet threats with cloud and proactive technologies.
ESET NOD32 internet security antivirus that includes a firewall, secure online payment, and home network protection tools, and parental controls. In addition, It's a new approach to integrated computer security. The intelligent system constantly reports about potential attacks and malicious programs that could damage the computer. "Note: This article did not finish yet, we published it by mistake and we will finish it soon. However, you can use links at the end, and if you have any questions then leave a comment below."
Note

:

software-on.com articles

are based on extensive research and practical testing if possible. For more information, see here: .
What Is ESET NOD32 Antivirus?
ESET NOD32 Antivirus, also known as NOD32, is a paid antivirus software made by the Slovak ESET company. ESET NOD32 Antivirus is sold in two versions, home edition, and business version.
Business Edition packages add ESET remote administrators to allow server deployment and management. Moreover, it reflects updates to the threat signature database and the ability to install on Microsoft Windows Server operating systems.
ESET NOD32 can provide maximum protection and minimal impact on the system. Moreover, it has advanced technologies that use intelligent methods to prevent attacks by viruses, Trojans, spyware, worms, adware, rootkits, and other types of threats without compromising system performance or interrupting work.
ESET NOD32 Antivirus is one of the best antivirus software applications to download. Therefore, when you have a laptop or PC, you will always be safe by using it.
The web is not a safe place. Is a fact, if you do not protect your device, you'll encounter many problems. A small number of threats can access your PC Windows. Not only for internet security but also ESET NOD32 Antivirus can protect your system.
In addition, If threats reach your laptop or your devices. It will bother you and you will encounter many problems. Therefore, if you want to keep your data and your work safe, you need to get ESET NOD32 antivirus that capable of preventing threats and achieving the safety of your data and device.
You can manage it in very simple steps. Millions of users are using this antivirus program.
ESET NOD32 Internet Security download can protect your PC against threats along with application and browser buffers. Moreover, it has AntiPhishing protection, which can protect you from counterfeit websites that look to collect your private and confidential information.
This Antivirus has many features. However, nothing in this world is perfect. Therefore, it provides the best protection. While it is being set up on your computer. It will start work and All viruses will be blocked, simply with a one-click and everything will be protected. Even when the virus is latent or an old model of the virus.
This program can struggle in opposition to them all. ESET NOD32 Antivirus, you will not have to worry about viruses anymore. it can Integrity and anonymously detect a hidden malicious. As a result, your computer will always be safe, which may depend on anti-virus options. This Antivirus considers as one of the best security software in the market.
How Good Is ESET NOD32 Antivirus?
ESET performed really well in my antivirus tests, scoring a perfect 100% protection rating against all types of malware. Its antivirus engine uses advanced heuristics, machine learning, and cloud-based scanning to effectively detect and eliminate the latest malware threats without slowing down your PC. In addition, check out the video below, which shows ESET Internet Security vs Ransomware.
What Is ESET Service Problem?
Some users faced an issue with a high CPU and RAM usage because of ESET Service, which is based on information gathered.
For example, Windows Task Manager shows 100% CPU usage, from which 99% was used by ESET Service, which also made Windows 10 operating systems extremely slow. Furthermore, some others faced from 10% to 20% of constant usage of CPU.
While this problem occurred suddenly for some without reason, and it happened to others after updating Eset nod32 antivirus, and for some others it happened to them on one of their Windows 10 devices that were packed with files, knowing that the problem was solved for all of them when they uninstall Eset nod32 antivirus.
How To Disable, Remove & Uninstall ESET NOD32 Antivirus?
What Is ESET Online Scanner?
How To Activate ESET NOD32?
There are many ways to activate the ESET NOD32 antivirus for free. However, but the only safe way is to use the official method to activate it, which officially through buying the product.
Be aware, It is very dangerous to use illegal methods to activate the ESET NOD32 for free.
It is a protection program, how can you ensure your safety from hacking and viruses, while you yourself search and try to use a crack piracy and virus methods to activate ESET NOD32 antivirus, which is supposed to protect your data and devices, which makes no sense.
Moreover, ESET NOD32 is a paid antivirus, so the only valid method to activate this antivirus is through a license key as follows:
When the activation window opens: Select Activate trial license and click Next.
Enter the email address and select your Country and State.
Click in the checkbox, If want to receive email updates from ESET.
Click Activate.
ESET NOD32 Features:
Real-time file system protection.
Document security.
Device control.
Proactive HIPS protection.
Game mode.
Anti-stealth protection (rootkit detection).
Protection of Internet access.
E-mail client protection.
Phishing protection.
Smarter scanning.
Removes USB virus and other devices virus.
Scans all connected systems.
Self-defense.
Does ESET NOD32 Antivirus Have A Free Edition?
Alternatively, Download Best Free Antivirus Free Instead:
Finally, Download & Try ESET NOD32 With 30 Days Free Trial: