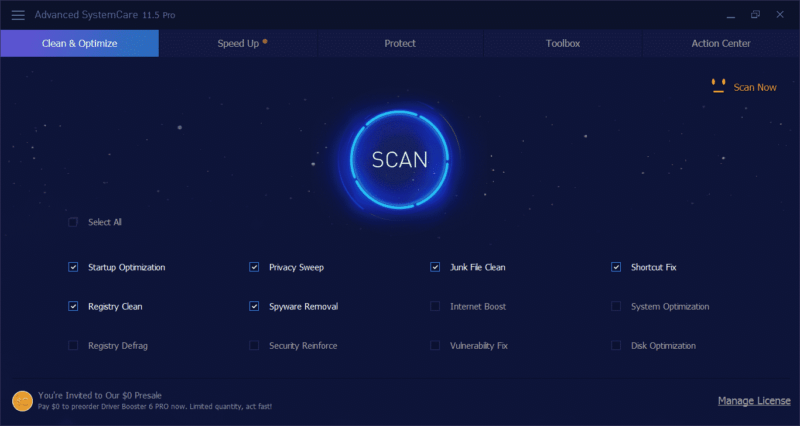 Advanced SystemCare Pro the PC Cleaner and Optimization software. Clean junk files on your Windows PCs and fix issues with the registry, privacy, and shortcuts and reducing memory usage.
Advanced SystemCare Pro aims With this single tool can track the different issues and fix them with ease. Also, you can optimize device to have better speed and performance automatically.
Advanced SystemCare Pro 11.5 Features 
Cleaner and Faster PC
Unwanted programs, useless registry files and invalid shortcuts all will slow down your PC. Advanced SystemCare, with its core PC cleaning technology, will clean up all useless file to give a PC as clean and fast as a new one.
Quicker Startup & Faster Browsing
Waiting a long time to load the system in front of your computer every morning? And then annoyed by bad network connection when you're working? Advanced SystemCare will help to boost startup speed and ensure you smooth network by optimizing network and browser configuration.
Less Crashes and Stable System
System crashes and registry clutters often occur on aged computer. Advanced SystemCare will clean malicious programs and install system holes to enhance system stability and security. Its powerful Registry Clean and Repair technology will guarantee you stable registry performance.
Safer PC & Important Data
Facebook privacy scandal hits millions of users worldwide. To keep you from being the victim of this crisis, Advanced SystemCare 11 supports clearing cookies and browsing data related to Facebook. Without disturbing you, Real-time Protector automatically runs in the background to monitor and prevent malicious infections like malware, spyware proactively. Anti-tracking, blocking homepage and DNS modification, etc. will also keep your privacy from malicious leaking. What's more, FaceID immediately captures the image of intruder who breaks into your computer.
Benefits of Advanced SystemCare PRO
Clean & Optimize PC Performance
Basic PC cleaning and optimization
Premium PC cleaning and optimization
Deep clean registry to prevent system crash
Defrag hard drive data to optimize PC performance
Auto RAM clean to stop unused programs and processes
Auto care for PC as scheduled
Monitor system condition in real time
Boost PC Speed
Up to 200% quicker PC startup
Up to 300% Internet speedup with Internet Booster
Ensure PC Security
Basic PC protection with spyware removal
Full PC protection for detecting and removing deepest infections
Capture intruders automatically with FaceID
Premium surfing protection with automatically clear tracking data
Proactively detect and block security holes in real time
Optimum IObit Service
Auto update to the latest version


DIRECT FILE DOWNLOAD LINKS
Advanced SystemCare Pro 11.5.0.240.zip

UP4EVER
DOWNLOAD NOW
UPLOAD4EARN
DOWNLOAD NOW

Make sure that you have a good anti-virus program in your computer or Download one of the listed antivirus software in our site to scan the file before unrar and installation
Antivirus Software Category